Scaling Impact: How One Social Enterprise Started by Listening
Over 2,200 farmers and consumers across ten counties have seen advancements in nutrition and employment since launch of dairy initiative
August 02, 2020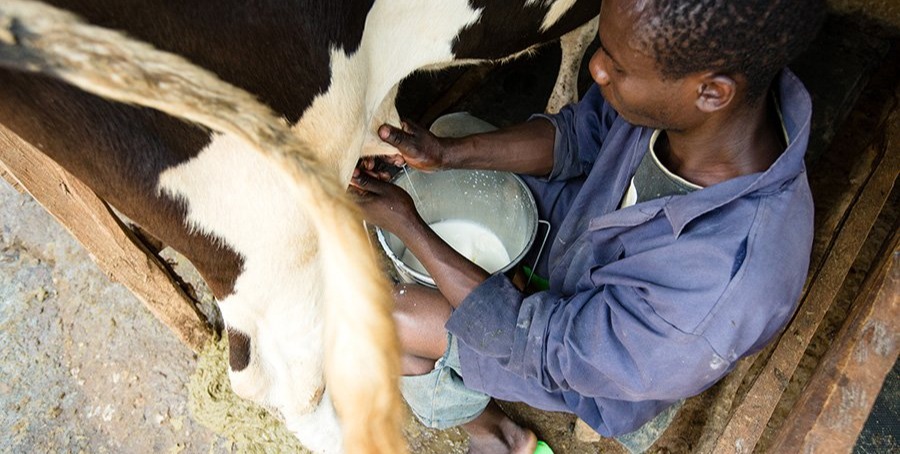 Today, we're exchanging more words, knowledge, and opinions than ever before. But how many of us are actually listening?
A single conversation can lend itself to insights that better inform and improve the solutions we're looking to create. As
Nuru Social Enterprises
learned, these lessons can be tough to swallow, but are crucial to dissect in order to achieve impact that stretches beyond a single community.
"We had to take a bold measure," Tom Kibet, Managing Director of Nuru Social Enterprises Kenya reflects back to a day, two years ago, when he was forced to make a heart wrenching decision. Nuru Kenya had just launched a dairy intervention in its livelihoods program, a highly anticipated project that would allow rural farmers to work with pedigree cows and learn how to manage livestock to produce high quality milk for market.
Several months into the project, Tom started gathering feedback from the farmers. It quickly became clear that with just five cows, the program was only training a small portion of the farming population, but the need was still large. He pivoted to find a way to put dairy production directly into the hands of more farmers. Nuru Social Enterprises sold their award winning cattle and partnered with Nuru Kenya who invested the funds in expertise, upgraded the genetics through artificial insemination, issued cross-bred heifers on loan basis, and ensured access to vaccines, to allow farmers to produce higher volumes of milk using their own indigenous cattle.
Once set in motion, the Nuru Kenya dairy intervention began providing farmers in rural Kenya with meaningful information and knowledge. Over time these aspiring dairy farmers achieved a steadier income that helped them avoid the struggle of scraping by day-to-day. With newfound success, Nuru's team looked for ways to sustain their momentum and impact for even more low-income community members.
In January, Tom and his leadership team seized an opportunity to gain hands-on guidance from Acumen and IKEA professionals. Alongside a cohort of 19 East African organizations, they enrolled in the
Acumen and
IKEA Social Entrepreneurship
Accelerator —
a 19-week program designed to accompany social enterprises working to alleviate poverty, create opportunity and build scalable business models.
The Accelerator asked Nuru to connect with customers, to discover what they valued most. Unsure of what they might find, they designed a customer discovery survey, which uncovered two things: quality was top of mind, but accessibility was essential. Buyers wanted nutrient-rich dairy products — one's that weren't watered down, spoiled, or exposed to harmful pathogens — hard to come by in rural areas. Others voiced that quality didn't matter if they couldn't gain access to the products easily.
Reflecting on their delivery model, they realized it was outdated. Nuru Social Enterprises fulfilled product orders from major outlets and distributors, skipping small kiosks and shops along the way, and hiring vehicles based on the number of orders received.
Through the Accelerator program, we discovered we can have a long-term plan to acquire company vehicles that shall eventually cut the distribution cost and allow us to sell to customers along routes to the major outlets. By doing this we shall grow our customer base, propelling the revenue growth.
Esther Kihenjo, Finance Manager at NSE
Esther identified this as her 'aha' moment. She envisioned building a more resilient model that would connect farmers (the suppliers) with additional buyers and at the same time, allow more people to taste Nuru's reputation for dairy excellence.
Sifting through customer feedback, the team also identified a gap they hadn't noticed before. It was nearly impossible for community members to access fermented products like yogurt — an affordable source of essential nutrients. With knowledge in hand, Nuru was confident that now was the perfect time to introduce their new lala (yogurt) product to the market, but at what price?
"We had a brilliant IKEA coach who taught us how to look at the price vs. the volume we were producing. We found out that we could increase the volume of products sold through the route to market sales strategy while implementing a price mix of the product across different market segments and replicate the same approach in other new regions," said Tom.
Since launching, the dairy intervention has created thousands of employment opportunities, impacting the lives of over 2,200 farmers and consumers across ten counties, and significantly improving community nutrition. With six weeks left in the Accelerator, Nuru Social Enterprises hopes to learn more about sustainably scaling their products to provide other deserving farmers with an opportunity for greater stability in their lives.