9 Awardees Carving Sustainable Pathways to Social Progress
Student-led enterprises unearth solutions to uproot inequality in The Rockefeller Foundation-Acumen Student Social Innovation Challenge virtual track.
June 20, 2020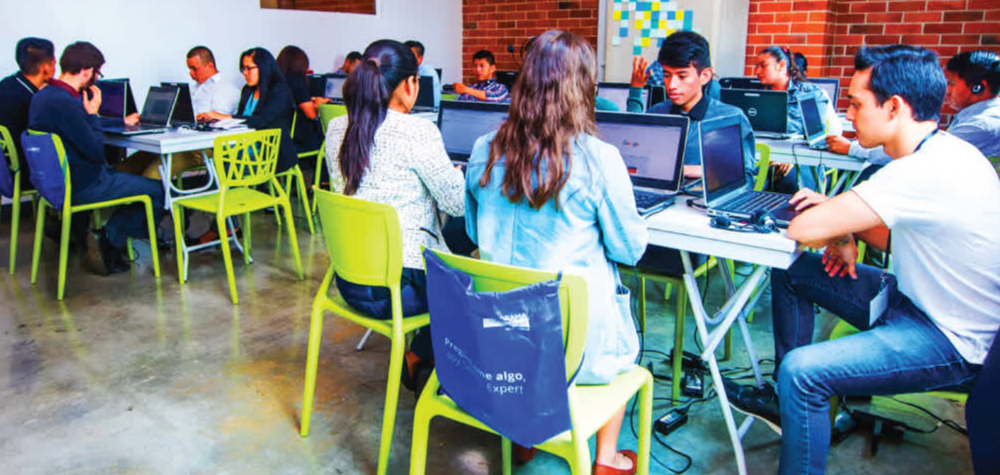 The global pandemic has spotlighted the injustices upheld by systems that serve few, and exclude many. For too long, too many have responded to the symptoms of injustice without identifying and fighting to dismantle the true causes. An exceptional cohort of social entrepreneurs are embracing the difficult and fostering tenacious ideas for innovation. They started by enrolling in The Rockefeller Foundation-Acumen Student Social Innovation Challenge to build a business plan for a more sustainable future. We are overjoyed to congratulate 9 student-led teams with up to $20,000 in seed funding from The Rockefeller Foundation to turn their ideas into operating enterprises. These visionaries are redesigning community healthcare models and mending broken pathways between education and employment. They are asking us all to reconsider how we welcome refugees into our communities and fighting for minorities to become active participants in global markets. Their startups stretch to touch the margins of society, working with populations in 5 different world regions across 3 major sectors in a diverse set of disciplines.
Drawing from decades of experience in advancing frontiers in a variety of social impact sectors, The Rockefeller Foundation and Acumen Academy joined forces to equip students with the educational resources and professional guidance to learn and lead. This challenge began in September 2019, through a partnership with four U.S. universities hosting their own on-campus innovation competitions. As the COVID-19 pandemic unfolded, these young leaders faced challenges that threatened to derail their progress and limit their access to the materials needed to chart their startup's future. They emerged unwavered and more emboldened than ever to build an informed and empathetic world.
Inspired by our continuing mission to be the world's school for social change, we launched a virtual chapter of the challenge to engage students from across the globe, welcoming a diverse pool of 4,280 course takers spanning countries including: Nigeria, Australia, Pakistan, and Tanzania. These students first enrolled in Acumen Academy's Lean Startup for Social Impact course designed specifically for social entrepreneurs and enterprises who need to implement more rapid, lightweight methods of understanding customer needs and experimenting with product iterations. Upon completion, 19 student-led teams qualified to compete in phase two of the program. The 9 Accelerator awardees received grant funding to pilot their products, expand their teams, and scale their impact.
"This unique moment of crisis makes it ever more important to support fresh ideas that promote positive social change. The winners surfaced though this competition have put forward bold approaches that address inequality around the world. The Rockefeller Foundation is proud to support this amazing group and looks forward to our continued partnership with Acumen Academy to promote the next generation of social entrepreneurs, said Hunter Goldman, Director of Innovation at the Rockefeller Foundation.
Here's a first glimpse in a series of articles to be published featuring virtual awardees carving distinct paths to social progress:
In 2015, Daisy and Aaron Rosales found themselves in one of Quito, Ecuador's poorest neighborhoods, volunteering with a local organization's summer program for kids. As they immersed themselves in the community, the external pains of poverty felt by individuals were visible, but the hardships of domestic violence were not. When they returned to launch a pilot partnership with the organization and conducted a needs assessment survey of the community, they understood just how wide-spread these experiences were — 98% of families reported incidents of alcohol-related domestic violence. Daisy, who holds an MBA from Yale, and Aaron, a PhD in Clinical Psychology from Fuller School of Psychology, launched Brio in 2018 to equip human service organizations with a dynamic set of mental health design processes to take their initiatives from initial concept to a sustainable support system. Brio's hands-on partnership program is centered on the idea of accompaniment through the use of educational trainings, leadership development, and a unique mental health design toolkit. Now working in Ecuador, Peru, Mexico, and India, these resources adapt to the differing needs of each community, allowing them to take control of care in an effective way.
Our goal is to equip and accompany local leaders who already receive requests for mental health support in their work of activism or service, leveraging their existing capacity to validate, grow, and sustain their programs.
Aaron Rosales,
Co-Founder and Director of Mental Health, Brio
As global conflicts, pandemics, and climate change force families from their homes in alarming numbers, how to resettle displaced populations has become a defining question of our time. By 2050, the word "migrant," will describe an estimated 1 billion people. This stark realization sparked Jackie Colmar and Tracey Martinovich to build Ensō, an impact-driven social enterprise working to redefine how Australia welcomes and supports refugee populations across their borders. On top of the stress and trauma refugees face due to political or religious oppression, war, and migration; resettling in a new country comes with its own set of challenges. Ensō seeks to provide four unique services: tailored pre-employment training, employment matching services post-training, on-going mentorship for businesses and individuals, and investment in past participants to create a cycle of community-driven training. Tracey and Jackie hope to lower the barriers to developing a meaningful, financially secure and fulfilling future for refugee populations, with Ensō.
In a country where a majority of the population is vulnerable to falling below the poverty line, Akwo Ashangndowah, Seleu Reginald, and their team of radical visionaries are creating an electronic tool for young Cameroonians to secure their earnings and track their daily spending habits. Their team identified millennials and young adults as one of the most financially excluded populations in Cameroon, resulting in a lack of awareness about financial products and services. Nkwa is a digital savings platform that asks users to commit to their financial future by outlining target savings goals. Once up and running, the platforms will provide invaluable financial literacy education to young adults and professionals, allowing users to take their first step toward financial freedom. Nkwa means 'pocket', which is what Akwo and his team hope to give users: a secure place to save their money, learn, and grow.
According to the World Health Organization, in 2018, 1.5 million people died of tuberculosis — a preventable disease. While the Sputum Smear Microscopy test is the most widely available diagnostic tool for identifying TB in countries with high disease burdens, the test has poor sensitivity which means a large percentage of cases go undetected. Recent graduates of Johns Hopkins Whiting School of Engineering, Bonolo Mathekga and Digvijay Singh launched drizzle, a polymer method of testing that improves the sensitivity of the current SSM test, reducing transmission rates in resource-scarce communities. India has set an ambitious goal to eradicate TB by 2025 and drizzle hopes to utilize their technology to help bring this milestone to fruition.
There was a big contrast between how TB was being handled in the Americas versus Africa and India. It wasn't like they didn't solve the problem of TB diagnosis, the problem actually is that it was not solved for people who actually needed it at a certain price point or accessibility.
Digvijay Singh, Co-Founder, Drizzle
Born from a desire to dissolve barriers to affordable credit faced by unbanked individuals in the United States; Tyler Hastie, Jessica Hart, and Bukie Adebo are creating a digital solution known as Liza. Think of credit as oxygen, it allows people to plan for their future, to breathe a little easier when surmounting bills strangle their finances. To gain access to this vital element, one must prove their creditworthiness, which isn't always easy — with Liza it can be. This platform affords users the chance to repair and strengthen their credit reputation through a series of loan opportunities which starts with a trusted way of lending with friends and family. As users build their credit history, they are able to graduate to the mainstream credit network, gaining access to credit cards, bank accounts, and financial flexibility. Liza creates a mutually advantageous relationship for both users and banks who are looking to expand their customer base. Once operational, the platform plans to offer financial literacy education each step of the way to promote responsible lending and spending.
Despite the rapid growth of Mexico's micro-finance institutions (MFIs), the vast majority of small businesses are unable to access credit. Ana Neri, Josefina Van Thienen, and Laura Gutierrez — recent graduates of Duke University's Fuqua School of Business wanted to assist MFIs in lowering their operational costs to unlock their potential to provide loans to social entrepreneurs creating sustainable impact. To achieve this, they created MiLibreta, a B2B digital platform focused on solving for both sides of the credit equation. MiLibreta is a point of sales that digitizes and analyzes the micro businesses' financial records and builds a credit risk profile, eliminating this costly process for MFIs and allowing both parties to partner and scale their social footprint.
Imagine if you could predict a pandemic before it breaks? Long before the COVID-19 outbreak, Dr. Reza Jarral and Data Scientist Nicole Lin began developing a health analytics platform that would democratize the dissemination of healthcare information universally, using artificial intelligence and data. This platform seeks to provide real-time insights on disease trends, health risks, and recommended actions for mitigation; improving response to health emergencies locally and internationally. According to Global Burden of Disease research, up to 20,000 men, women and children are dying every day from infectious diseases, most entirely preventable and curable. Meora's vision is to create a more informed, inclusive world, easing collaboration across borders and ensuring vulnerable populations don't bear the brunt of infectious disease burdens. Meora's logo, a spiral symbol has appeared throughout different civilizations in human history (Celtic, Maori, Greek, Taino). It symbolizes creation, growth, progress, and continuity.
We've seen with COVID-19 that people feel overwhelmed when trying to look for trustworthy, accurate, timely information. We want to make that simpler and easier for everyday people so they don't have to feel that burden or anxiety when they're trying to find the right health information.
Dr. Reza Jarral, Co-Founder, Meora
In Nigeria, the widening gap between youth unemployment and employability is a daunting reality faced by thousands of students who are unable to gain profitable skill-sets sought by employers. Social entrepreneurs, Abdul-Rahman Buhari, Raqeebat Buhari, Oreoluwa Olomodosi, and Damola Pedro first identified this problem during their time volunteering as tutors with a girls club for students from low-income families. They grew frustrated, witnessing the unbreakable spirit and time commitment these students dedicated in pursuit of a career path, only to be denied employment year after year. They combined their expertise in social impact, marketing, and finance to create The Brand Custodians. Their team is currently designing an intensive, project based up-skilling program to train young professionals in highly desirable field specialties such as digital marketing. By introducing this new service into the market, a mutually beneficial relationship is created between low & mid-income youth and small-scale businesses in need of talented professionals to scale their impact.
We believe that our education system needs to change in many ways, one of which is that the system doesn't train students to develop skills that employers want. By training our students using a curriculum that is tailored to these entrepreneurs' business needs, we can make a significant social and business impact.
Abdul-Rahman Buhari,
Co-Founder, The Brand Custodians
Over 10 million Filipinos live and work abroad to earn a more stable income for their families back home. Financial exclusion and broken financial systems are a major contributor to intergenerational poverty and inequality for Filipinos abroad and in the Philippines. Founder & CEO, Rebecca Kersch witnessed first-hand the difficulties her Auntie faced when sending remittance payments through a costly cycle, claiming nearly 10% of her Auntie's annual salary. Their loved ones receiving the wages are without a bank account, a reality enveloping 1.7 billion adults globally. Rebecca and her talented team saw these struggles as an opportunity to repair and improve the arduous process of remittance payments, while also providing the receiver with, in essence a bank account, through Tang. Tang is a digital e-payments platform that provides users with a cheap, fast, and secure way of sending money from the US to the Philippines and will pilot this summer allowing users to buy phone credit for loved ones back home in the Philippines. For remittances, launching in 2021, Tang will wield block chain technology to streamline the payment process, allowing unbanked individuals to deliver payments peer-to-peer and with merchants. By building their payment history, Tang's users will be closer to achieving a healthy financial future.
When the world moved from home landline phones to mobile phones, emerging markets moved straight to mobile phones. With Tang, the Philippines' unbanked population can move straight to digital banking and e-money, instead of first needing a checking account from a physical bank branch.
Rebecca Kersch, Founder & CEO, Tang