Meet the 2022 Acumen Fellows in Malaysia
The 2022 cohort of Malaysia Acumen Fellows embark on a transformation journey towards a new brand of leadership that puts the people and the planet at the center.
January 27, 2022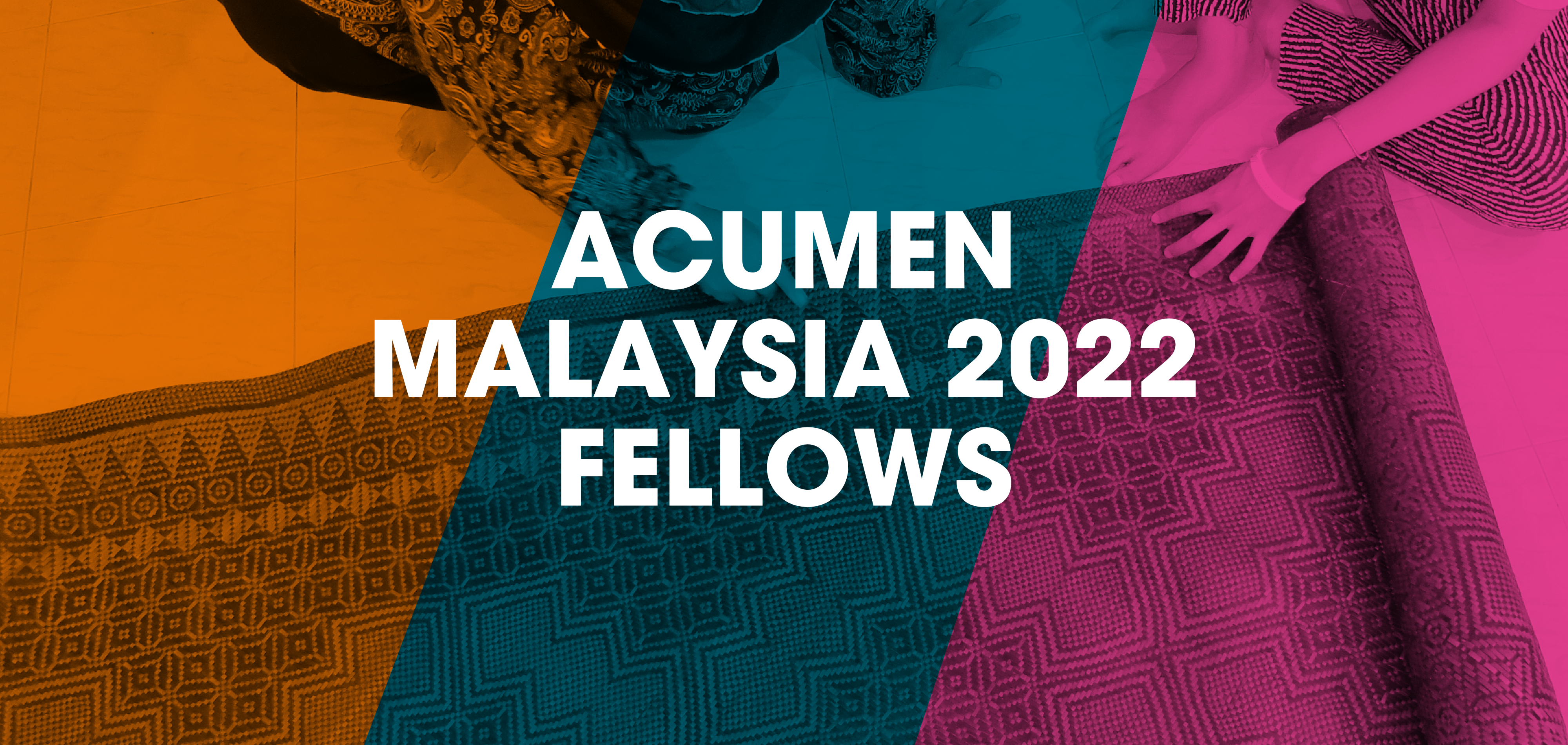 Despite the small size, this cohort's prowess and moral imagination for better communities in Malaysia inspires many. From Klang Valley to Kuching and Kota Kinabalu, these ten amazing individuals work across the public, private and social sectors. We believe in solutions that are both locally rooted and globally connected in order to solve Malaysia's toughest social problems. The addition of this new cohort adds to our critical mass of creating a more just, inclusive, and sustainable Malaysia.
The Fellows will now embark on a year-long leadership transformation journey to prepare for a life-long journey of accompaniment. Beginning March 2022, they will explore what it means to be an adaptive leader, manage polarities, tell stories that compel others towards change, and explore their collective values and imagination for the future. Upon completion, our Fellows will join Acumen's movement of 900 Fellows across the UK, East and West Africa, Colombia, Spain, Bangladesh, India, Pakistan, and Malaysia in building a world based on dignity.
Read more about the 2022 Cohort in Malaysia and their work below!
Adrian Banie Lasimbang
Adrian is the Co-Founder of TONIBUNG, a social enterprise based in Penampang Sabah. He has over 20 years of experience in developing renewable energy and appropriate technology solutions to improve the livelihood of rural communities. A self-taught innovator, Adrian has installed many micro-hydro systems in indigenous villages across Malaysia and trained community groups in resource management and customary rights protection. TONIBUNG runs CREATE (Centre for Renewable Energy and Appropriate Technologies), a training center that aims to empower rural indigenous youths..
Wan Dazriq
Wan Dazriq is the CEO of ETHIS Malaysia, a fintech company with an ambition to circulate good through democratising access to capital. He is also a strong advocate of social entrepreneurship ecosystem development in Malaysia where he is the founding president of chamber of social entrepreneur development (CSED) Malaysia and start up a venture building entity for impact enterprises PurpoSE Malaysia. Dazriq is also the managing partner for NeoUprise and Social Enterprise Academy Malaysia. Other than social entrepreneurship, fintech, and venture building, Dazriq has experience in large scale transformation work as well as nation building initiatives in multinationals and government link companies in Malaysia.
Dr. Darshni Kashinathan
Dr. Darshni.K is the founder of JujucareMedic, a social enterprise that provides accessible healthcare services to improvise health equity for child and adolescent wellbeing, through its data-driven Doctor@School solution. Being a member of Catalyst 2030, alumni of the Asoka Foundation, and a partner of the International Supply Chain Education Alliance (ISCEA) Malaysia, this women-led organization strives to deliver social goodness through care. This medical enthusiast is an anatomist from Asian Institute of Medicine, Science and Technology (AIMST).
Izza Izelan
Izza Izelan is the Executive Director and Vice President of WOMEN:girls, a non-profit that primarily concentrates efforts towards progressing the lives of women, and building girls to become changemakers in their communities through its developmental programs to promote self-sufficiency. Izza was also the recipient of the 2017/2018 Chevening Scholarship and holds a master's degree in Education and International Development from the Institute of Education, University College London (UCL). She was most recently named one of Tatler Asia's Most Influential 2021 in the field of philanthropy and charity.
Mildred Voon
Mildred is the Head of Projects at the Leadership Institute of Sarawak Civil Service. Her work includes advising the Sarawak state government on talent management, capacity development, and manpower forecasting. She aims to change the negative perception towards government officers by developing policies and training programmes which will ensure that civil servants are developed to their fullest potential, ultimately improving overall government service delivery in Sarawak. She holds a Masters in Public Policy from the Harvard Kennedy School.
Wong Chen Li
Chen is the Impact Driver at Akar Umbi Society, an organisation that collaborates with the grassroots communities towards ending marginalisation and creating equal opportunities. Prior to that, Chen served seven years as a Project Coordinator at SUKA Society focusing on building resilience in refugee and Orang Asli young people as well as peacebuilding programmes between refugees and Malaysian youths. Chen believes that the willingness to listen and create a conducive thinking environment in partnership with the grassroots communities are the keys to solving community issues. The grassroots themselves are an asset. She believes that the communities can thrive if time, opportunities, and resources are invested into building their people up.
Kim Lim
Kim Lim is the Co-Founder of PichaEats, a food business rebuilding lives of refugees in Malaysia. She believes that everyone has the inner power of making a difference in someone else's life. It doesn't matter big or small. In 2017, she was awarded THE EDGE Inspiring Young Leaders 2017 awards, listed Forbes 30 under 30 Asia and Asia Tatler's Generation T. Then, she co-founded The Other School, an educational platform aiming to enable quality education for refugee kids in Malaysia.
Nirmala Supramaniam
Nirmala leads the Financial Education Department at the Credit Counseling and Debt Management Agency, an organisation set up to help individuals take control of their financial situation and gain peace of mind that comes from the wise use of credit. Nirmala develops, designs and executes Financial Literacy initiatives to various segments of the society. Nirmala holds Masters in Management Science and a Bachelor Degree in Economics.
Kenneth Chai
Kenneth co-founded The Learning Curve in 2017 that help schools in Kuching establish organized STEM associations through streamlined training, infrastructure upgrades, and annual science fairs. He also started Airgro in 2020 that grows imported produce locally in Kuching. Kenneth holds a Master's degree in Energy from University of Aberdeen.
Amnani Abdul Kadir
Amnani is the Partnerships Director at Women's Aid Organisation, a nonprofit advocating for women and child rights and is also the largest service provider for gender based violence in Malaysia. Her scope of work is in the sustainability of the organisation through fundraising and public education via social media, community engagements, and partnerships. Her forte is in creating nurturing partnerships and collaborations with various stakeholders to build safe spaces and amplifying lived realities of women and girls.