Welcome the 2021 Acumen Fellows in East Africa
East Africa's 10th cohort of Acumen Fellows continue to build a more just, inclusive, and sustainable world.
May 03, 2021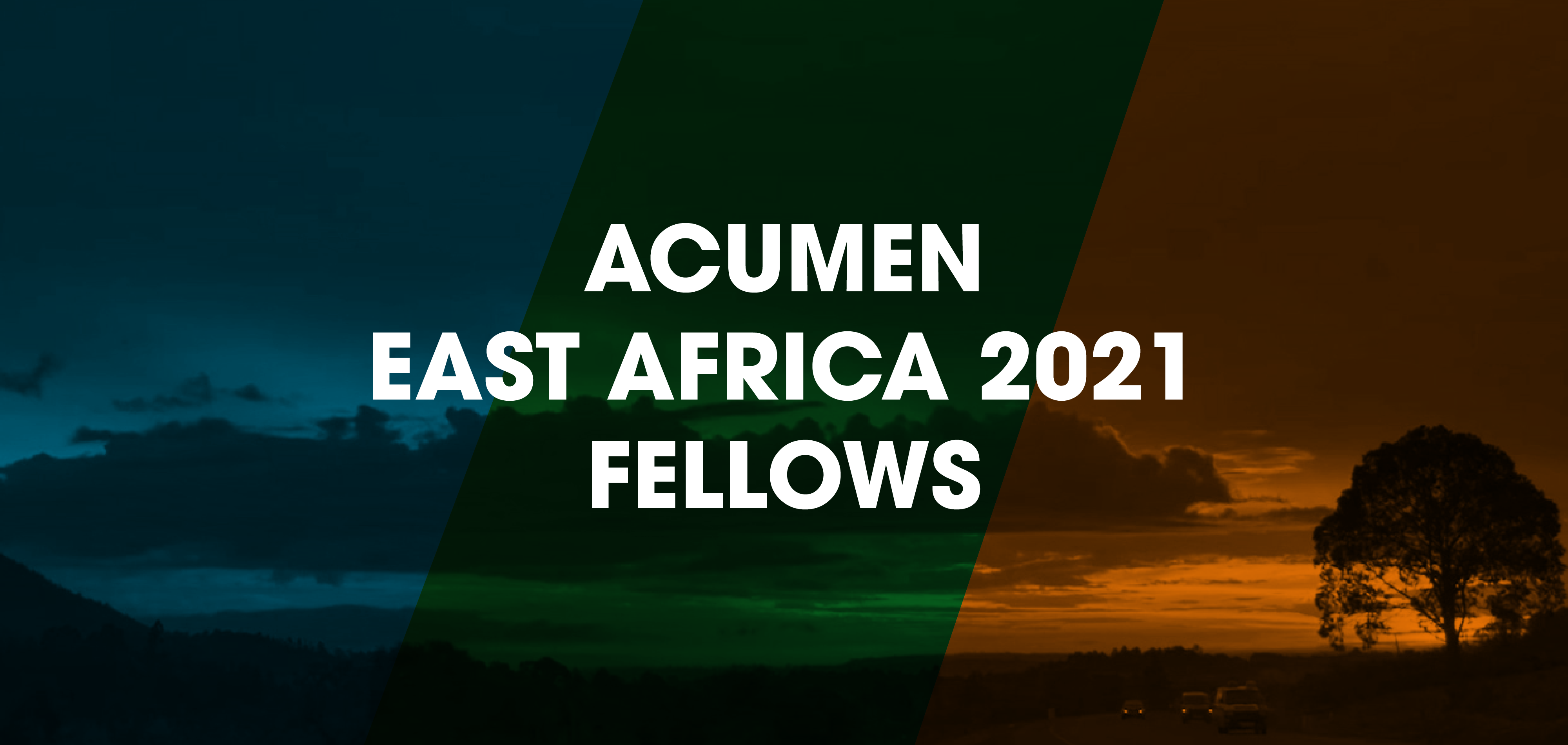 Each year, the East Africa Fellowship brings together around 20 extraordinary individuals who are tackling poverty and inequality in their communities, and equips them with the knowledge, skills and community to strengthen their leadership, and accelerate and sustain their impact. Our intensive leadership development programme furthers our Fellows' journeys toward mastering the skills, attributes, and values of moral leadership.
From Education to Healthcare, Financial Inclusion to Agriculture, the 2021 East Africa Fellows are 22 outstanding and courageous leaders from Burundi, Ethiopia, Kenya, South Sudan, Tanzania and Uganda. They are providing emergency health services, lighting off-grid consumers by providing affordable solar solutions, empowering women and girls in rural communities, partnering with smallholder farmers, promoting cultural rights of indigenous people and minorities, empowering youth, and so much more.
In the coming months, the Fellows will come together to learn with, and from each other in a series of workshops and immersive seminars. Upon completion of their first year, they will join Acumen's growing community of 900+ social innovators & builders from across the globe, accompanying each other to create a world based on dignity. Learn more about the 2021 East Africa Fellows and how they are redefining success through their work.
Aaron is the Co-Founder of Damu Sasa, an innovative end-to-end blood services information management platform that seeks to save lives through facilitating timely availability of safe blood for transfusion, especially to mothers and children, in Africa. Damu Sasa saves lives everyday. Ogunde has a background in ICT.
Andrew is the Founder of Internet of Good Things which aims to provide opportunity by making knowledge universally accessible. He is also a subject matter lead at Safaricom, a telecommunications and technology organization that provides digital solutions to transform lives and address challenges in Kenya. Andrew holds a Bachelor's degree in Electrical and Electronics Engineering, a Master's degree in Business Administration and is a registered engineer and the current lead on Industry 4.0 at the Institution of Engineers of Kenya.
Annastazia is a Program Coordinator at Jifundishe, where she addresses education matters by initiating and implementing corrective action to ensure excellent service is highly maintained. She serves as being part of different initiatives that empower youth and women, which enhances a complete developed society in education sector. She has 6 years working experience and is a Young African Leaders Initiative East Africa Alumni. She holds a Bachelor's degree in Insurance and Risk Management from Institute of Finance Management.
Anne is a Business Development Manager at Ed Partners Africa. Ed Partners Africa is company that lends to affordable private school owners. She has successfully run a social impact program that equips school owners with skills to run and manage their institution to a competitive standard. The skills include training on leadership, financial management, school management system among others. Nduku holds a Bachelor's degree in Arts (Economics) from Kenyatta University.
Annet is the Acting Program Manager at Vijana Corps, a youth focused organization that champions youth engagement through unorthodox civil society programming tailored around modern technology and social innovation approaches. The organization makes it possible for disenfranchised youth in Uganda to access innovative platforms and safe spaces that give them a voice in the struggle for social justice. Annet is a Human Rights Lawyer with a special interest in Public Interest Litigation, Clinical Legal Education, Children and Women's Rights.
Atuhurra is the Founder of the Gejja Women Foundation in Mpigi Uganda, that aims to holistically empower marginalized women and girls in rural Uganda through business development, educational support, training in sexual and reproductive health, and gender mainstreaming. She seeks to empower and nurture new female leaders so as to leave a legacy. She believes in learning, connecting and acknowledges economic-educational and social empowerment as a fundamental driver of change.
David is the Senior Chief of Barut Location in Nakuru county at the Ministry of Interior and Coordination of National Government in Kenya. He coordinates all the services rendered by the government to the residents of his area of jurisdiction. These include issuing of the National Identity cards, ensuring the security of residents, fighting against brewing and consumption of illicit brews, fighting against Gender-Based Violence, identifying the needy in the community and facilitating appropriate aid from the government and well wishers.
Eunice is a Senior Manager at M-PESA and currently works with Safaricom PLC, specifically handling credit and savings propositions and how to leverage data to deliver more customer-centric solutions. Financial inclusion via mobile and digital channels grows the inclusion number across Africa and the world and gives access to credit and other financial tools and services in a dignified manner. Eunice has led various project teams to deliver strategic products which bagged both local and global awards.
Juliana is the Founder of Tanzania Health and Medical Education Foundation (TAHMEF) Organization, a youth-led non-profit that bridges socio-economic gaps that limit access to quality healthcare services in marginalized and under-served communities. Her work is empowering many Tanzanians in six regions, with health coverage schemes that are timely, accessible, effective and affordable. Her vision for Tanzania is to become the center of eminence in the provision of quality and highly specialized services in healthcare and research in Africa.
Kaahwa is the Founder and Director of EMANGO, a cultural non-government organization that focuses on the promotion of cultural rights and expressions of indigenous people and minorities. EMANGO profiles communities, promotes cultural expression, and advocates against exclusion, discrimination and violation of cultural rights. Prior to EMANGO, Kaahwa was a host for a Human Rights and Good Governance program at a local radio station. He started a cultural radio program which registered tremendous success in raising cultural consciousness in the region.
Melaku is Executive Director of the Ethiopian Center for Disability and Development (ECDD). He is a Social Worker by profession with interdisciplinary areas of expertise in disability and development with more than eight years of designing and implementation of high impact disability-inclusive development programs. Melaku co-founded and currently serves as Vice President at the Ethiopian Lawyers with Disabilities Association. He holds an MSW in Social Work and LLB in Law and Bachelor's degree in Public Administration and Development Management.
Monique is the Product Category Manager at d.light in Kenya - a global social enterprise that transforms the lives of off-grid consumers by providing affordable access to lighting and entertainment through solar energy. She has extensive Pan-African experience in the FMCG and renewable energy industries. Her expertise includes innovation, product development, strategy, trade and consumer marketing as well as market development. She holds a Masters in Business Administration in Marketing from Daystar University and a Bachelor's degree in Chemical Engineering.
Nicolai is Chief Operating Officer of NALA, a social impact fin-tech that is providing financial transparency tools and low-cost payment and banking solutions to individuals across the African continent. NALA is driven by the observation that access to existing available financial services are unnecessarily costly, transparency into the impact of using these services is generally opaque, and overall access to financial services remains low. Prior to NALA, Nicolai worked at Morningstar in Europe, the U.S., and India, serving in strategy, operations, and product management roles. Nicolai holds a Bachelor's degree in Economics from Bard College and in his free time, enjoys running, hiking, reading, and listening to Bongo Flava.
Norah is Co-founder of Drop Access, an organization that develops sustainable rural communities by providing access to clean energy. The organization advocates for productive use of energy by bridging the financing gaps and innovating cold storage technologies. Norah is a Certified Energy Manager by the Association of Energy Engineers, holds a Bachelor's degree in Mechanical and Manufacturing Engineering and is an alumnus of the Young African Leaders Initiative, the Micro-Grid Academy and the United Nations Institute of Training and Research.
Tharcisse is the Founder and Chief Executive Officer of The Village Micro-clinic, a community-based organization that aims to empower people from peri-urban areas and slums in Burundi to advance their own health and well-being. He has been serving the underserved communities to improve their global health and well-being since 2011. The clinic focuses on prevention and management of neglected tropical diseases, chronic illnesses, maternal, reproductive and child health. Tharcisse is a fellow from the Segal Family Foundation fellowship program 2018.
Nyagoa is Co-founder and Director of Catwalk to Freedom in South Sudan, an organization which helps protect girls who are at risk of being forced into early marriage, through fashion, photography and film awareness. Catwalk also supports survivors or girls at risk with continuing their education. Prior to Catwalk, Nyagoa worked with the South Sudan Government, in the Ministry of Foreign Affairs and Investment where she advocated for the protection of the rights of women, girls and refugees.
Ruot is Co-founder and Project Manager of Gezira, an agri-business trust company that focuses on young people in South Sudan. The company provides employment opportunities and creates market linkages to underserved smallholder farmers. He was a refugee living in Kenya where he graduated with a Bachelor of Business Administration (Entrepreneurship) at Kenya Methodist University. He is a communicator, self-motivated and entrepreneur and participated in the Young African Leaders Initiative East Africa.
Sahar is the Founder and CEO of Maziwa, a social enterprise supporting breastfeeding mothers in East Africa. While working she was inspired to start Maziwa and designed the only breast pump specifically tailored to working mothers in developing markets. Prior to this, Sahar's career focused on developing healthcare solutions and award-winning marketing campaigns. She has dual Bachelor of Commerce and Bachelor of Arts degrees from Queen's University and a Master of Business Administration degree from the Kellogg School of Management.
Samwel is the Director of Tumaini Innovation Center. He engages street youth in a revolutionary educational social enterprise that breaks down educational barriers they face in a changing society, leverages their inherent resourcefulness, resilience, and creativity, and equips them with the knowledge and skills they need to get off the streets and have productive careers. Kimani has over ten years of experience working with street youth and holds a Bachelor's degree in Education Arts from Moi University.
Tomo is a Vice President of Corporate Finance & Strategy at Komaza, a Kenya-based social enterprise partnering with over 25,000 smallholder farmers to accelerate sustainable forestry in Africa. Tomo leads fundraising, structured finance, carbon project development, and strategic initiatives including $28M Series B, which was recognized as "the Impact Project/Investment of the Year" by Environmental Finance Magazine. He holds bachelor's degree in International Relations (hon) from Brown University and is a Robert Bosch Foundation Global Governance Futures Fellow.
Wendy is the Director of Operations at KadAfrica, an alliance of a business and non-profit that creates economic opportunities for out-of-school girls, refugees, and young female rural farmers through an inclusive farming value chain. She avails dignifying economic opportunities as well as transferable employable life and soft skills to women. Wendy holds a Bachelor's degree in Economics and Statistics from the University of Nairobi. She is an associate member of the Institute of Certified Public Accountants of Kenya (ICPAK).
Winnie is the Country Program Manager at ACHAP for Kenya, where she provides leadership and management of the implementation of USAID's ACHAP Afya project. The project aims at increasing availability and utilization of high quality and high impact community intervention in Maternal, New born and Child Health (MNCH); family planning, nutrition as well as Water, Sanitation and Hygiene (WASH). Winnie has worked in several non-governmental organizations to advance health and economic rights of women and girls.