Meet The 2021 Cohort Of Pakistan Acumen Fellows
Join us in welcoming the 2021 Cohort of Pakistan Acumen Fellows: an intensive experience where practical skills meet moral imagination.
August 23, 2021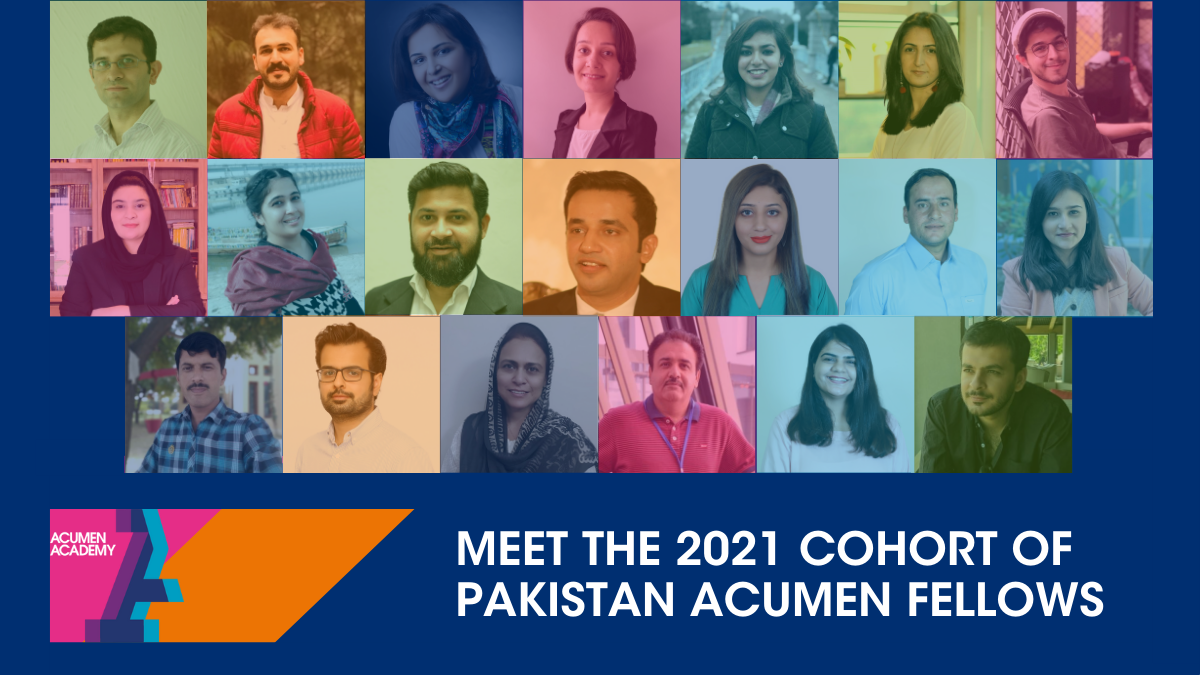 Every year, the Acumen Fellows Program brings together social innovators and leaders with the determination and grit to build a more just, inclusive, and equitable Pakistan.
Join us in welcoming the 2021 Cohort as they embark on their Fellowship journey: an intensive experience where practical skills meet moral imagination, designed to equip these amazing individuals with the tools, mindset, and community in service of a world based on human dignity.
An emerging theme from the 2021 cohort of Pakistan Fellows is diversity. They are entrepreneurs, intrapreneurs, organization builders and public sector leaders from urban and rural areas across the country tackling issues of poverty and injustice in varied focus areas such as Agriculture, Advocacy, Economic Development, Inclusion, Environment/ Conservation, Youth Empowerment, Public Policy, Food Security, Civil Service, Education, Health, Mental Health, and Rights of the Vulnerable. With over 175 collective years in the field, an average age of 34 on a spectrum where the youngest cohort member is 19 and the oldest is 51, these 19 leaders also bring to the space what is unquantifiable yet truly powerful: their personal journeys, distinct contexts, their courage, vulnerability, and the contours of a beautiful struggle.
CEO and Founder of Baithak - Challenging Taboos
Ayesha is the Founder of Baithak - Challenging Taboos, a community-based organization that advocates for women's access to sexual and reproductive health and rights, and gender justice in rural Sindh. Baithak educates and empowers girls and women in menstrual hygiene management, bodily autonomy and reproductive rights. Ayesha is a Fulbright Scholar with MS in Social Policy from the University of Pennsylvania and has around nine years of experience leading social-impact initiatives.
Ali is the CEO of Amal Academy, which focuses on helping the Pakistani youth and education system reach their full potential. Amal's flagship initiative, a 3-month Career-Prep Fellowship, has already helped hundreds of low-income youth develop critical skills and mindsets to launch into meaningful careers and live more values-driven lives. Ali has been working in education since 2012, has worked in technology and strategy in the US, and holds an MS from Ohio State and an MBA from Notre Dame.
Co-Founder of Khair Khaigarha Tariqiati Tanzeem
Amin works as the Social Mobilizer in Community Driven Local Development Policy under Sarhad Rural Support Programme (SRSP). The main focus of the programme is to strengthen the Community Based Organizations (CBOs) and support them in the development schemes of District Swat. Amin holds a Bachelor's Degree in Economics from COMSATS University Abbottabad.
CEO and Co-Founder of Polly and Other Stories
Amneh is the CEO and Co-Founder of Polly and Other Stories, a social enterprise that connects disenfranchised artisans in Pakistan to global markets through modernised design and digital commerce. Amneh's work leverages cultural crafts and making to lift people out of poverty. She has worked in the not-for-profit sector for 16 years in areas of women's rights, gender mainstreaming, economic development and environmental initiatives. She holds Masters' degrees in Public Policy from the Australian National University and International Relations from University of Karachi.
Regional Program Manager at Interactive Research Development (IRD)
Anila leads the Deworming Initiative in Sindh and Balochistan, as a part of Interactive Research Development, an organization that works towards bridging the global health delivery gap through scalable, cost-effective, and evidence-based interventions in public health. She contributes to improve the physical and mental wellbeing of school age children through mass drug administration in at-risk districts in the regions aimed at eliminating one of the neglected tropical diseases in Pakistan. Anila holds degrees in Economics and Educational Leadership and is a Fulbright Scholar.
Senior Project Officer at Science Fuse
Arooj is an educator and a journalist currently working at Science Fuse, an organization that makes science education fun, accessible, and relevant to children all over Pakistan. Arooj is a Malala Fund Fellow and has served as a cultural ambassador to the U.S. Department of State during her Global UGRAD scholarship in 2018. She holds a Bachelor's Degree in Education and Sociology from Forman Christian College (FCCU) and also completed the American Semester Program at Michigan State University.
Country Lead at Project Girls for Girls and Consultant at International Foundation for Electoral Systems (IFES)
Aysha is a development practitioner focusing on democracy, elections, gender, and inclusion. She has worked on some of the most historic post-conflict elections including Afghanistan, Iraq and Libya. Currently she is consulting with International Foundation for Electoral Systems (IFES) to enhance electoral participation of women and marginalized groups. Aysha recently launched Project Girls for Girls (G4G) in Pakistan, a mentorship platform empowering young women to take on public leadership. G4G runs mentorship programmes at educational institutions with the aim to address gender gap in leadership.
CEO and Founder of SMBB High School
Din Muhammad is the Founder of Shaheed Mohtarma Benazir Bhutto (SMBB) High School, an institution established under public-private partnership model, that works towards inducting students living in poverty, and with no access to post-primary education, back into the fold by providing them with high-quality education and academic facilities. Previously, Din has worked with a number of social development organizations, with a focus on education. Currently, he is also pursuing a Master's in Educational Planning and Management from Allama Iqbal Open University.
Founder of Girls United For Human Rights (GUHR)
Hadiqa is the CEO and Founder of Girls United For Human Rights, a feminist non-profit working towards social justice through knowledge, advocacy, community awareness in tribal regions, and the the elimination of early and forced marriages in Pakistan. Hadiqa is the UN Youth Leader for SDGs from the Class of 2020-2022 and a 2020 Women Deliver Young Leader. She is currently pursuing a Bachelor's in Sociology from Government Jahanzeb College, Swat.
Manager Conservation at WWF Pakistan
Hamera is an ecologist with over 10 years of experience in biodiversity and integrated community-based conservation. Currently, she is working with WWF Pakistan and is developing and leading projects and research studies that support the protection of diminishing wildlife and their habitats in Pakistan, along with addressing key drivers of poverty affecting the lives of natural resources-dependent communities. Her work also includes demonstrating and experimenting with new approaches to support and strengthen biodiversity conservation.
Senior Manager, Programs at TAF Foundation
Hammad is working as a Senior Manager, Programs at TAF Foundation, a not-for-profit organization working in the areas of Education, Health and Social Consciousness. Hammad plays a key role in identifying community needs, conceptualizing initiatives, strategizing their sustainability, developing project plans, engaging relevant stakeholders, and implementing programs with robust and efficient systems in place. He has also worked with The Aman Foundation and Maersk Pakistan. Hammad holds a Bachelor's degree in Mechanical Engineering from NED University of Engineering & Technology.
Business Development Manager and Co-Founder of Farm Dynamics Pakistan
Husnain is the co-founder and Business Development Manager at Farm Dynamics Pakistan, a company envisioned to reform and promote agricultural practices and technologies, and upskill the farming community by helping them increase the efficiency and profitability of their businesses. He works on developing partnerships with development organizations, learning institutions and within the farming sector to educate and train audiences on competent practices for enhancing yields and sustainable food production. Husnain holds a Master's degree in Business Administration from University of Management & Technology, Lahore.
Associate Manager, Student Development & Enrichment at Foundation Public School
Kashaf is an Associate Manager, Student Development at FPS, where she leads the Next Generation Leadership Program. Her work revolves around whole-child development, with a focus on nurturing children and young adults into becoming long-term partners in the change process – partners who can reimagine societal structures, and lead positive reform through the principles of transformation, empathy, intersectionality, and entrepreneurship. She is a Fulbright scholar, and holds an MPA from the Maxwell School of Citizenship and Public Affairs at Syracuse University.
Founder of Gulistan Socio-Educational Society
Muhammad Ikram is the Founder of Gulistan Socio-Educational Society, an institution that provides high-quality free of cost education to poor, orphans and needy children, especially girls and Afghan refugee children. The school also provides low cost education to students from low-income families. Along with providing the children education, Muhammad Ikram believes in creating a space for them that protects their individual and social rights. He holds a dual Master's degree in History and Persian from the University of Balochistan, Quetta.
CEO and Co-Founder of Rizq
Musa Aamir is Co-Founder and CEO at Rizq, a people-powered social exchange that aims to sustain human life to fulfill its true potential. Rizq is working to combat food insecurity, food wastage, and hunger at large, to protect and advance the right to food for all. Through the use of technology the organization connects and enables various stakeholders in the food ecosystem, including donors, corporates, foundations, government, youth, and grassroots organizations to work together and fight the root causes of hunger.
Deputy Director of VITAL Pakistan
Rehan is a public health professional, focused on building coalitions across organizations and scaling up digital innovations to enable the coordination and effective delivery of healthcare services in Pakistan. He is currently Deputy Director at VITAL Pakistan, where he leads the expansion of the organization's maternal and child healthcare model. Previously, Rehan led Sukoon Water, a social enterprise focused on reducing water-borne diseases in urban slums. He holds a Bachelor's in Economics and Public Policy from Stanford University.
COO of Developments in Literacy (DIL)
Sadia is the Chief Operating Officer at Developments in Literacy (DIL), a nonprofit organization operating a network of student centered schools for educating underprivileged children across Pakistan. Sadia leads a team of professionals working for designing curriculum materials and ed-tech solutions as well as high impact training programs for the capacity building of teachers and principals to ensure the delivery of quality education in DIL schools.
Provincial Chief at SMEDA Balochistan
Shakoor is an economic development professional, working with Small and Medium Enterprises Development Authority (SMEDA) to provide an enabling environment and business development services to Small and Medium Enterprises (SMEs) in Balochistan. He works towards supporting the SMEs of the region by making business connections with national and international markets. He strongly believes that fostering entrepreneurship amongst Balochistan's youth with the motto "job seekers should become job creators" will help Balochistan's resources be used towards value-added products and services.
CTO and Founder of Aether
Zarak is the Founder of Aether, a startup focused on providing healthy nutritious produce within our cities while negating the carbon cost associated with traditional agriculture and developing tools for more urban farmers to take the leap. Before Aether, Zarak was an advisor to the Pakistan Military in Waziristan on Agriculture and helped design interventions with the Provincial Government to help support Agriculture in the NMD region in Pakistan.