Meet the 2021 Acumen Fellows in Malaysia
Malaysia's second cohort of Acumen Fellows are ready to harness the power of their collective diversity.
March 29, 2021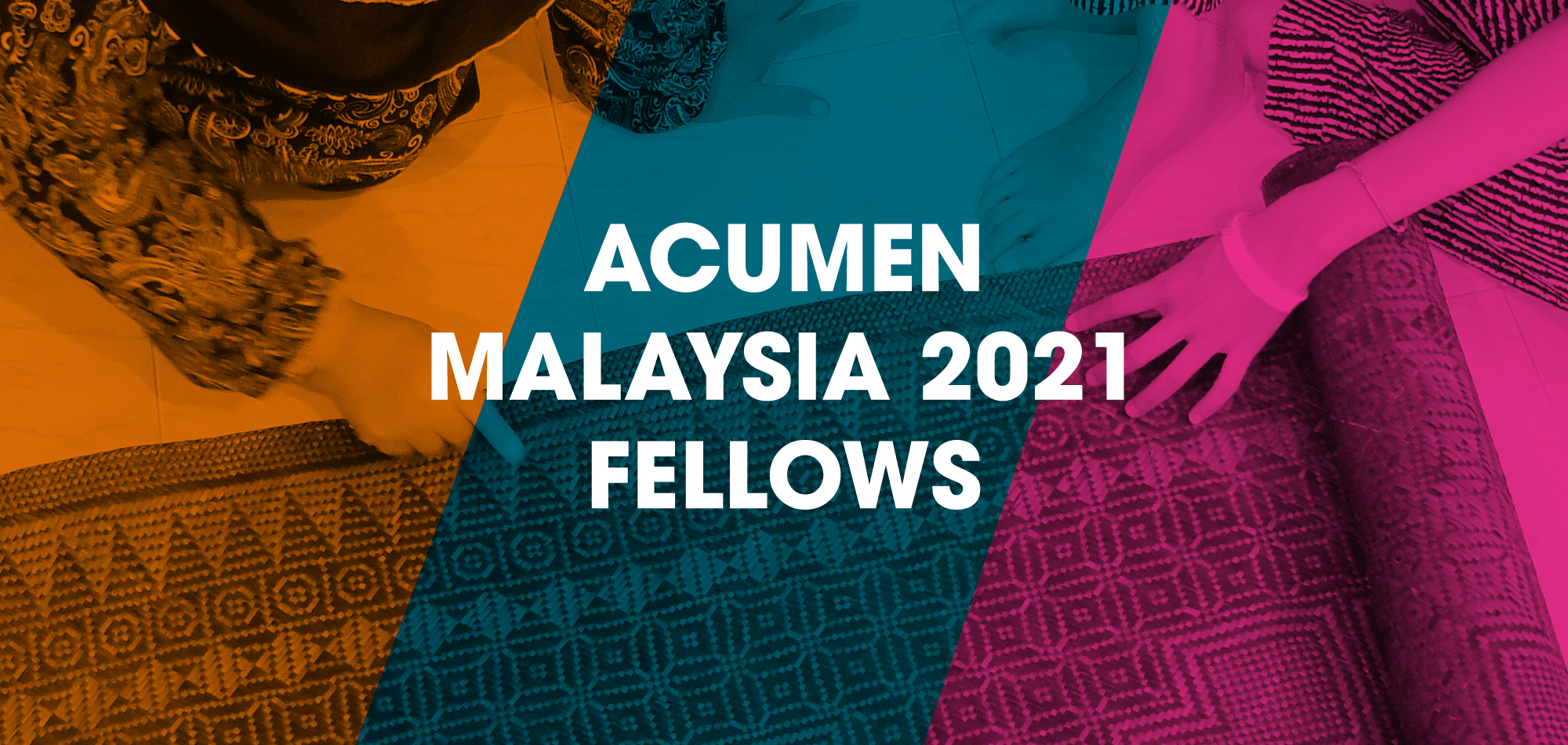 These 18 amazing individuals come from cities and towns across the country, whose work cuts across the public, private and social sectors. We believe in solutions that are locally rooted, globally connected in service of tackling the world's toughest social problems. The convening of this new cohort is a growing step towards creating a more just, inclusive and sustainable Malaysia.
The Fellows will now embark on a year-long leadership transformation journey to prepare them for a life-long journey of accompaniment. This is where they will learn what it means to be an adaptive leader, manage polarities, tell stories that compel others to change and explore their collective values and imagination for the future. Upon completion, our Fellows will join Acumen's movement of 780+ Fellows across the UK, East and West Africa, Colombia, Spain, Bangladesh, India, Pakistan and Malaysia in building a world based on dignity.
Read more about the 2021 Cohort in Malaysia and their work below!
Awang Saifeluddin is the Founder and CEO of Grit Event Management in Sarawak, Malaysia, a platform that empowers local eco-tourism via outdoor events such as trail runs, eco-challenge, bamboo raft safari and many others. Awang has worked with more than 20 different villages from different tribes across Sarawak to build the local Community Eco-Tourism initiative that is mission-guided, value-driven and result-oriented. He holds a diploma in Public Administration from the MARA University of Technology.
Dr Subarna founded Project Asli to empower at-risk youth with sustainable development initiatives such as rural electrification, rural sanitation and sustainable living programmes impacting close to 200 Orang Asli community members. Subarna is Director of the Centre for Excellence in Teaching and Learning at Universiti Teknologi PETRONAS, Co-Chair of the National Education for Sustainable Development Work Group and immediate Past Chair of the National Foundation for Environmental Education Eco Campus Committee. She obtained her PhD from the University of Nottingham.
Cher is the Co-Owner & Managing Director of Batu Batu - Pulau Tengah, a sustainably-minded off-grid island resort in Malaysia that provides job opportunity and supply chain demand in the nearby coastal town of Mersing. She is also founder of Tengah Island Conservation, a non-profit biodiversity management initiative that has released over 17,000 endangered sea turtle hatchlings since 2014, where her team engaged over 500 primary and secondary school students in Mersing on environmental awareness programme.
Daniel is a paralympian living with osteogenesis imperfecta, a.k.a. brittle bones- but that doesn't stop him from doing what he loves and empowering others. He is working with KLBUG Academy, a sports academy serving coaches, athletes and underprivileged communities through sports programmes and value-based coaching. Daniel has participated in sports leadership programmes by the United Nations, completed a 100km ultramarathon to raise funds for underprivileged children, and aims to be the first Malaysian wheelchair racer in the Summer Paralympic Games.
Cheryl is part of the early founding team at Grab. Starting in Kuala Lumpur as a one-man marketing team, she set up the marketing practise for Grab over the last 7 years. Today, she leads marketing in over 350 cities in eight countries, covering all of Grab's business verticals including transport, food, payments and logistics. She oversees Grab's marketing efforts across the region, leading a team of over 500 marketers across Southeast Asia.
Devasharma is the founding member and CEO of MySkills Foundation. The foundation is a sanctuary for youth at risk in Malaysia with a holistic transformation approach to integrate at risk youth into mainstream society to become an asset for the community and the nation. MySkills Foundation's work has been recognized by Malaysian Government, World Bank and global financial institutions such as JP Morgan, HSBC, and Credit Suisse since past years. He holds a degree in Human Development and Management from Universiti Putra Malaysia.
Kelvin is the Co-Founder of Project ID, an organization that designs student empowerment programmes focusing on leadership, values, and career aspirations. He is an alumnus of Teach For Malaysia's inaugural cohort and has since taken roles in management consulting, technology startups, and data analytics. Kelvin also freelances for the Economist Intelligence Unit, contributing to research on sexual violence against children, and global health security.
Siti Aishah is the Founder of the SPOT Community Project by Soroptimist International Club of Petaling Jaya. She spearheads a team of volunteers providing rights based comprehensive sexuality education impacting the lives of more than 10,000 children since 2015. Siti Aishah obtained a bachelor of Performing Arts (Drama) from University Malaya.
Dr. Teh is the CEO of Global Peace Foundation Malaysia, a nonprofit that strives to foster resilient and cohesive communities. Over a decade at the helm, Dr. Teh has developed various strategies to address poverty of indigenous communities impacting more than 2100 lives across 4 states. The programmes range from providing access to clean water, renewable energy, education to food security. Dr. Teh holds a Bachelor of Medicine, Bachelor of Surgery (MBBS) from the University of Malaya.
Haslina is the Co-Founder of All Aboard Young Leaders Centre (AAYLC), a Sarawak based social enterprise that focuses on tech and leadership development among youths and children. In partnership with Chumbaka, an organization with a similar goal to AAYLC, Haslina and her team strive to bridge the digital divide between urban and rural schools/communities. With over 15 years of experience in education and community outreach, Haslina believes that all children can excel with the right access, exposure and opportunity.
Daniel is the Founder of Native, a social enterprise that co-creates community-based tourism ventures with indigenous peoples in Malaysia to create sustainable livelihoods and enable cultural discovery. Native works closely with these communities to understand, dignify, and showcase the best of their culture through experiential tours. Prior to Native, Daniel led the social innovation arm at Epic Collective. He holds a masters in Civil Engineering from the University of Nottingham.
Rabia is the Co-Founder of Reproductive Cadre of Sexuality Education and Queries, a woman-led initiative committed to educate and create awareness on comprehensive sexuality to parents and teachers. She is also Programme Manager at 2nd Chance, empowered by PT Foundation, a 33-year-old community-based organisation focusing on HIV/AIDS education. 2nd Chance provides academic mentorship, psycho-social and welfare support to women and children infected and affected with HIV. She holds a degree in medicine from O.O. Bohomolets National Medical University.
Will is the Co-Founder of FOLO Farms, a local community organic farm that builds ecological awareness and recycles local food waste to produce organic vegetables. Besides recycling 3 tonnes of food waste a day and cultivating 16 acres of degraded land, Will's team has established 1 community composting facility, 6 organic private and school edible gardens, and is consulting for 3 organic farms. Will was previously a civil engineer and obtained a master in Public Policy from National University of Singapore.
Zaim is the Director and Trustee of Impact Malaysia, a government agency empowering youths to create and measure their social impact. Under the purview of the Ministry of Youth and Sports, the agency focuses on capacity-building through accelerators, micro-grants and a national impact measurement digital platform. Zaim was awarded The Edge Young Inspiring Leaders Awards in 2019 for his work in youth development. Zaim holds a masters in International Strategy and Diplomacy from the London School of Economics and Political Science.
Samantha is the General Manager of People Systems Consultancy, an impact-driven company headquartered in Malaysia that works to transform and increase the income of the marginalized communities, micro-entrepreneurs, and SMEs through its proprietary solution that has impacted almost 50,000 direct beneficiaries in ASEAN. She graduated with a bachelor of Science from University Malaya.
Chareen is a lecturer in the School of Computing, principal researcher in the InterNetWorks Research Lab, and a research fellow with the UUM Institute for Advanced and Smart Digital Opportunities. Chareen also spearheads socioe-conomic empowerment initiatives for the people of Pulau Tuba. He conducts knowledge-transfer sessions and social-entrepreneurial programmes, empowering the community to generate income sustainably within their existing environment. Chareen graduated from the University of Queensland and is currently pursuing his doctoral degree.
Catherine Ooi is a Death Positivity Advocate and General Manager of Kasih Hospice Foundation, a non-profit offering free medical and psychosocial homecare for end-of-life patients in Selangor & Kuala Lumpur, Malaysia. She serves as Vice-Chairman of the Malaysian Hospice Council, an umbrella body dedicated to supporting member hospices and allied professionals within the Hospice & Palliative Care industry. She founded and runs Death Café PJ and speaks regularly on topics of death, dying, loss, and advanced care planning.
Logeetha is an early employee at PichaEats and Co-Founder of Zucchini & Co. PichaEats partners with refugees to bring delicious meals to the public while enabling refugees to earn an income. Zucchini & Co. works with brands to tell their story and at the same time, training young talents from marginalized communities to become part of the gig economy. Logeetha holds a Bsc in Accounting & Finance from Sunway University.