Meet the 2021 Cohort of UK Acumen Fellows
Join us in welcoming the 17 bold and generous leaders committed to bridging our divides in the United Kingdom.
September 22, 2021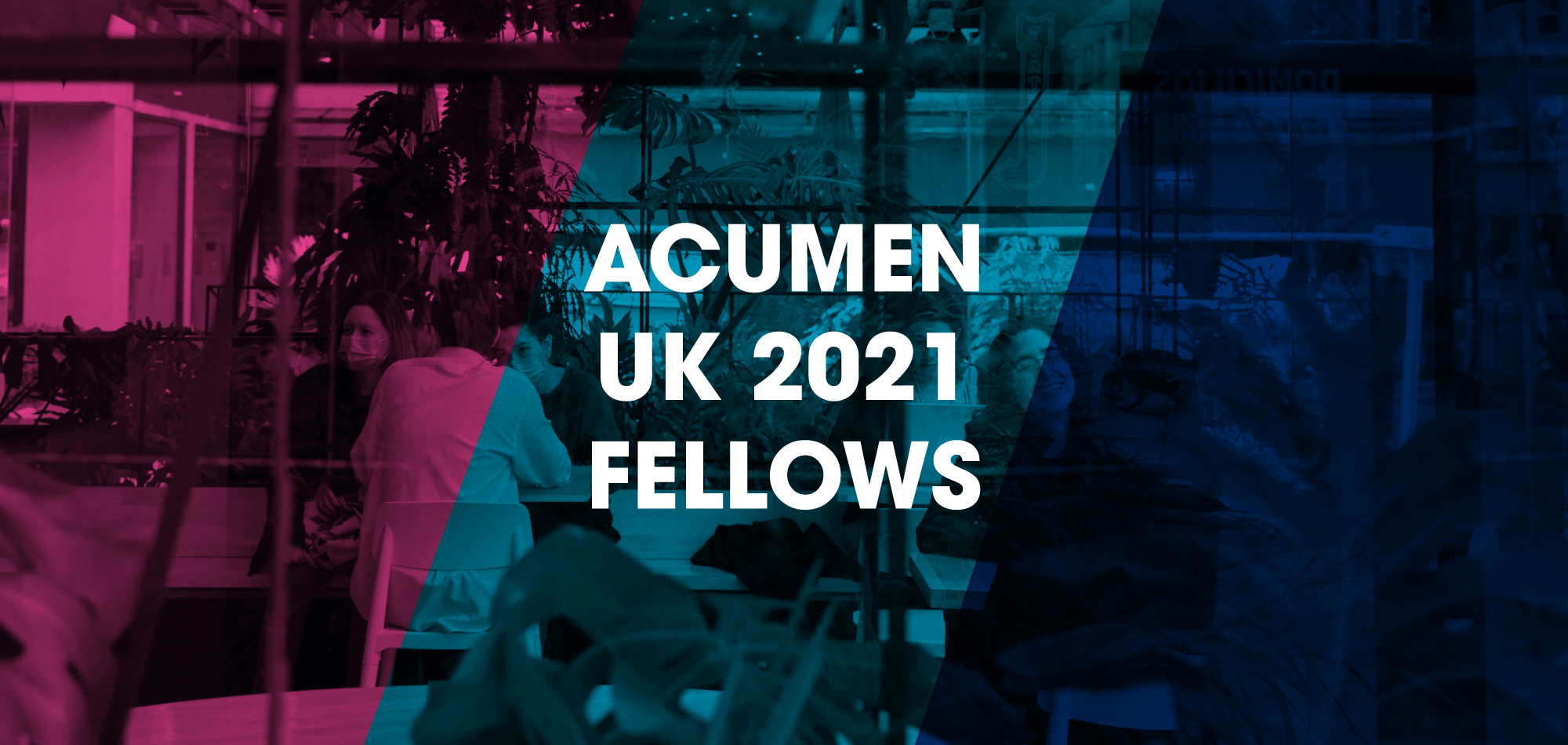 From Bangor to Sheffield, each year the UK Acumen Fellowship brings together around 20 bold and generous leaders who are committed to bridging our divides in the United Kingdom. Whilst the Fellows come from all walks of life, they are united in their commitment to navigate the unknown and redefine success in order to create a more just, inclusive, and sustainable future for all.
The 2021 Fellows are inspiring their communities to build a better future; they are building new business models, connecting our communities, empowering our youth, protecting our planet and putting dignity at the centre of our systems. Fundamentally, the Fellows understand that the challenges they are committed to solving are far too large and complex to be dealt with by any one individual or organization, and are invested in solving these challenges collectively.
Over the course of a year, the 2021 Fellows will be diving into a series of virtual workshops and in-person immersives held across the UK, connected by peer-coaching and group practice as they apply this learning to their work.
At its core, the Fellows programme is focused on developing the capacity to take on longstanding problems of poverty and inequality and building a community that is role modeling a different definition of success. Fellows measure their success not in terms of profit, power, or fame, but in the amount of human flourishing their actions released into the world. Read more about the 2021 Cohort in the UK, and their powerful work to bridge our divides.
Andy is the Chief Executive Officer at Doncaster Refurnish, a charity that uses recycling furniture and household goods as a training and development tool to support vulnerable people and to divert much-needed resources away from landfills to provide community benefit. Andy also supports a number of community organizations that focus on and address poverty.
Charlotte is the Director of LOOK, a charity supporting visually impaired children to thrive. LOOK offers a unique and pioneering peer mentoring programme linking visually impaired children with a blind mentor. Through mentoring, workshops and fun events, LOOK beats isolation and ensures that no one struggles alone. Charlotte began losing her sight at age seven and has a background in disability equality and journalism.
David is the Managing Partner of the Good Faith Partnership, a social consultancy that specializes in helping different sectors work better together on common goals. David has led the organisation from a start-up and has managed projects related to homelessness, financial inclusion, refugee resettlement, and social connection. Previously, David was a community organizer working on money and debt issues in East London and was the President of the Oxford University Student Union.
Jayne is the Commercial Manager at Argyll and Bute Council where she is responsible for school catering, cleaning, and the delivery of free period products. As National Chair of ASSIST FM, Jayne represents local authorities in Scotland, promoting the benefits of high-quality school meals for all children to tackle inequality and food poverty. Jayne works in partnership with many organizations as well as children and young people to help improve access to good food and food education.
Jess is the Community Development Worker for MaesNi, a resident-led group addressing Maesgeirchen's priorities of 10+ years. Jess helps residents make their visions happen by taking agencies and local and national governments on a journey to challenge structural inequalities and perceptions around poverty. Jess previously worked in climate and polar research, has a doctorate in ocean physics, and is a Caban Pentra trustee and Communities Director for The Earth Project.
Jess is the Founder and Chief Executive Officer of Migrateful, an organisation that empowers and celebrates refugees and vulnerable migrants on their journey to integration, by supporting them to run their own cookery classes.
Prior to Migrateful, Jess spent 3 years working on the front line to support migrants and refugees in Ceuta, Morocco, France, and London.
Laura is the Founder and Creative Director of MAOKWO, an organisation that addresses the issues of representation within the arts sector for minority artists, women, young people and migrant communities. Laura believes that art is a tool that helps us to see past race, class, age and create a better now and she is driven by the desire to see a better tomorrow.
Leslie is the Founder of B-Global, a black-led business network that supports start-ups, established and scale-up businesses of African heritage and the wider ethnic minority business community, to reach their full potential and provide economic prosperity for local communities. With experience in the private, voluntary, and public sectors, Leslie believes the tools for community empowerment are through entrepreneurship and financial literacy. He has a BA degree in Business and Masters Degree in Youth and Community Development.
Orla is the founder of Still I Rise Diversity Storytelling, an organisation celebrating diversity, tolerance, acceptance and encouraging open hearts through reading to create a more loving world. Orla is an entrepreneur, coach and motivational speaker from Belfast, Northern Ireland and is passionate about lessening stigma and encouraging inclusion and acceptance.
Reema is the Associate Director of the Ada Lovelace Institute. She works on participatory data stewardship, data justice, tackling health and social inequalities, and leads the Institute's participatory and engagement team. Previously, Reema worked for the democracy think tank Involve, and social policy think tank the Royal Society of Arts (RSA), where she led an economic democracy programme that shaped the establishment of the Bank of England's regional citizens' economic panels. She is also the founding trustee of a cooperative local library.
Ricky is the Young People's Service Manager at Children North East, a North East region-wide children's, families, and young people's charity that exists to ensure that children grow up healthy and happy. Ricky is committed to developing engaging and innovative ways to meet the varying needs of young people in the North East of England. He has over 15 years of experience in Youth Work and the management of Youth Work services and holds a Masters degree in Youth and Community Work from Durham University.
Rosie is the Policy & Participation Advisor for CELCIS, Centre for Excellence for Children's Care & Protection, where she helps to devise and implement a new participation strategy that puts the voices of children and young people at the heart. Rosie previously worked for the Independent Care Review where she championed the voice of the care experienced community and sought to ensure that all children growing up in care felt loved. Rosie holds a degree in Social Work.
Sam is the Community Development and Education Consultant for EggSeeds. He is a mentor and project developer, finding inspirational ways to engage communities and individuals to move towards lasting change in their communities to reduce the effects of poverty and enhance wellbeing. Sam has specialist experience in food growing and redistribution provisions and is the co-designer and creator with disengaged youth to install Wales first Solar USB charging bench that doubled-up as an emergency shelter for rough sleepers.
Sam is the Head of Development & Innovation at Gaddum, a charity established in 1833 that delivers advocacy, carers support and therapy services. Previously, Sam has worked in various charities and social enterprises and has over 19 years of experience working in the Third Sector across Greater Manchester. He is also the chair of youth charity, Greater Manchester Youth Network and has been a voluntary board member for over 6 years.
Sara is a Director within the Impact Incubator at Social Finance and is using participatory approaches to address social issues. Over the past 2 years, Sara has co-produced place-based pilots that respond to rising school exclusions, published analysis that creates the local case for early intervention and kick-started a national conversation around who is at risk of exclusion. Prior to Social Finance, Sara was Head of Commissioning for a police force and is a proud trustee of Survivors Network.
Sharon is the Equity and Diversity Lead at the Wise Group and creates formulas that inspire and enable individuals to achieve their highest potential regardless of background or experience. She has redesigned a work culture that focuses solely on equity, diversity, and inclusion. Sharon utilizes her own experiences in order to promote practices that ensure sustainable, positive and equitable futures for all involved. Her goal is to change the world by 'retraining historical beliefs and practices whilst encouraging positive change.'
Preethi is the Director of International Marketing at Vimeo and the Founder of Possible Ground, an impact-led business for women in technology. She supports business leaders to articulate their value proposition, create their strategic narratives, cement their pitch decks and gain confidence in their presentations and pitches. Prior to Possible Ground, Preethi worked with over 50 businesses and 20 accelerators, and after a decade in the tech industry, her aim is to ensure greater diversity and inclusion, especially for women and people of colour.
Sign up to receive updates from UK Acumen Academy at
https://acumen.fyi/UKInterest
and if you would like to make a nomination for an individual you think would make a great Acumen Fellow in the UK, please email uk@acumenacademy.org.
We want to thank our funding partners — TNL Community Fund, The Rank Foundation, Segelman Trust, and Mitsubishi Corporation Fund for Europe and Africa (MCFEA) — and our other amazing partners for their support as we take forward this exciting new programme.