Meet the 2022 Acumen Fellows in Colombia
Learn about a committed group of individuals that are transforming and building a new Colombia through their work.
February 02, 2022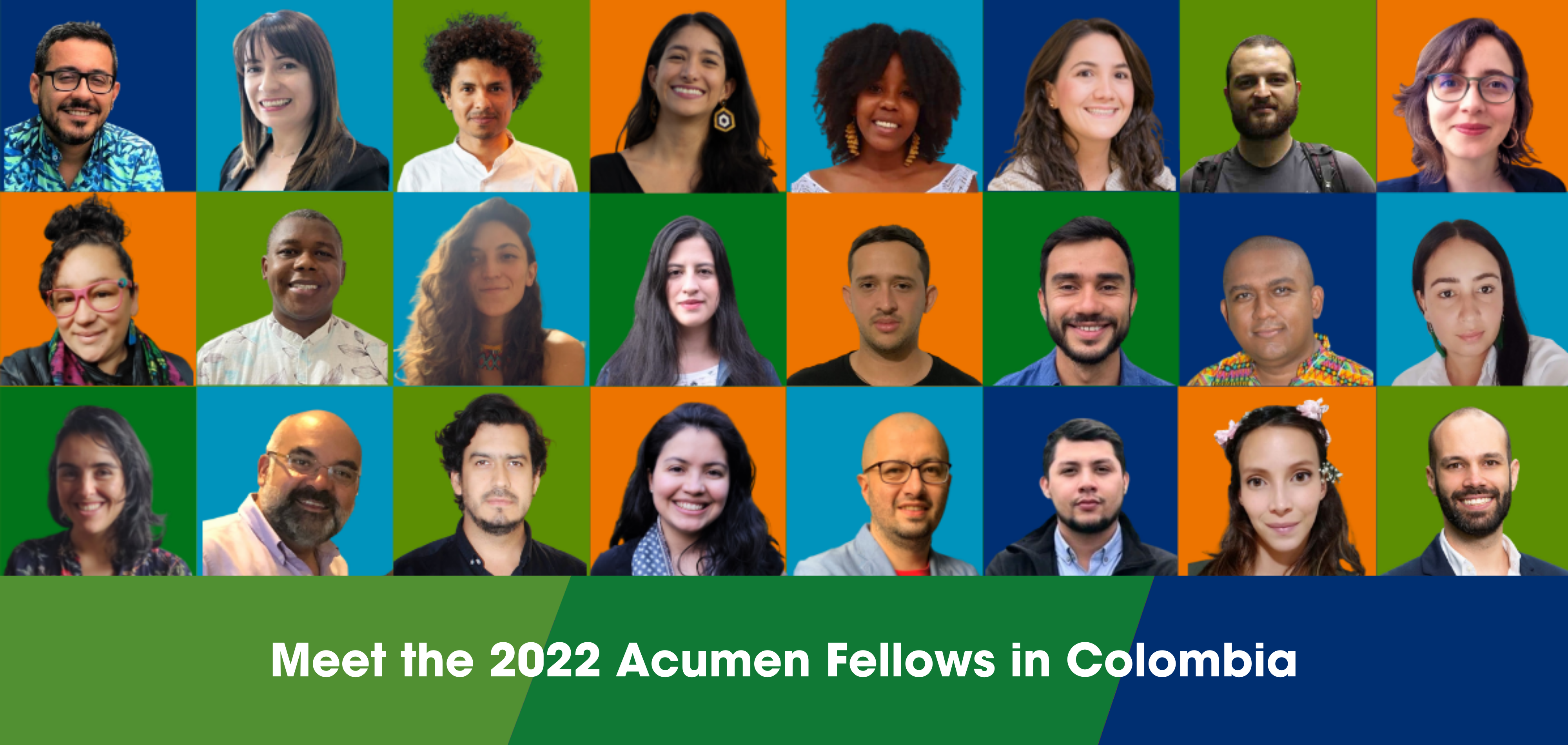 Social change will not come from a few. It needs all of us. We need social entrepreneurs, amplifiers, doers, and builders. It requires all of those who are willing to work to build a different Colombia, and to create a world where dignity is in the center.
Today we are proud and very excited to introduce you to the 2022 Acumen Fellows Cohort in Colombia. 24 builders who work every day to reduce inequality by creating opportunities for different populations and seeking to improve their quality of life. We welcome them to this space and to this collective. With us they'll have the opportunity to learn about the different realities of the country from the voice of their own actors. They will also join a growing community of 100 Colombian leaders that are transforming their communities through their work.
We believe that the way to build a new Colombia is by developing capacities, strengthening the initiatives of the communities, and creating a network of diverse actors united by a common purpose. change is not something that happens overnight, or something that should be left in the hands of a single individual. Our experience has taught us that patience, resilience, collaboration and commitment are required. We need courage. We need people willing to build. We need leaders with the skills to listen to others. We need people to cross lines of difference and to take actions that transform the community.
Join us in celebrating this group of 24 builders. Learn more about their work and how they are building a more peaceful Colombia.
Alexander Durán Macías
Alexander is a Co-Founder and Director of Operations of Tierra Grata, a social enterprise whose purpose is to accelerate the productivity and economic growth of rural communities through the basic services of clean energy, drinking water and safe sanitation. Alexander has experience in the communications area of ​​companies in different sectors. In the last 10 years he has focused on directing social and environmental projects for Non-Governmental Organizations. He is a graphic designer from the Universidad Autónoma del Caribe and an industrial designer from the Universidad Pontificia Bolivariana.
Antuan Haddad Villalobos
Antuan Haddad is the CEO of Empulsa, an NGO that promotes sustainable life projects through an innovative educational model that is connecting the whole country. Antuan is a social entrepreneur who has been working for more than 7 years in the design, management and evaluation of social and environmental projects. He focuses on self-knowledge, environmental education, and entrepreneurship to boost the life projects of Colombians. Political scientist from Universidad de los Andes.
Claudia González Gil
Claudia is Founder and CEO of ECCO, a Colombian organization where co-creation processes for systemic transformation are designed, facilitated, and developed. Using dialogue, connection, reflection, and creativity, they articulate different actors, voices, and perspectives in the creation of sustainable collective actions. She is also Project Manager at 2811, a global platform working for social and ecological change. Before founding ECCO, Claudia was an Advisor to the Presidency of the Republic and consultant at the Ministry of Health and the Secretariat of Economic Development of Cali. She is a lawyer, has a Masters' in development management and is a specialist in social technologies for transformation.
Daniel Tobón García
Daniel is the Co-Founder and CEO of Escalando Salud y Bienestar, a social startup improving well-being conditions in Colombian schools. Daniel is obsessed with making sure every child and adolescent can have a health and happy life, as well as full with opportunities. He is a medicine doctor and has masters degrees in public health and public policy, he has worked for over 8 years coordinating adolescent health programs at the global, regional, and national levels.
Diana Carolina Acuña Quintero
​​
Diana Carolina co-leads Sinestesia NGO that works with children and adolescents from contexts of armed conflict and has benefited girls, boys, and adolescents who are victims of forced recruitment, sexual exploitation, forced displacement, among other behaviors, through training processes on rights, gender and violence prevention. She has more than 12 years of experience in education and women, girls, boys and adolescents' rights. Diana is an expert in promoting rights and preventing violence, particularly those that occur in contexts of armed conflict and are gender oriented. She is a university professor and researcher, and a consultant for different cooperation agencies and government entities. Diana Carolina Acuña Quintero is a lawyer with a master's degree in Human Rights, awarded the magna cum laude merit from the Universidad del Rosario.
Diana Marcela Guzmán Reyes
Diana Guzman, also known as Diana ReUso is a leader and social entrepreneur with more than 15 years of experience in social, community and environmental projects. Ten years ago, she founded El Taller Del ReUSO, whose mission is oscarto democratize sustainability. It has impacted the rural population of Colombia on the periphery, mostly women. The Government of Cundinamarca recognized her as "Cundnamarquesa that inspires." Diana leads circular economy initiatives throughout Colombia, specializing in upcycling for projects such as "Circular Fashion" by Asodamas.
Diego Alejandro Gómez Hoyos
Diego is the director of Image Conservation, an initiative that seeks to integrate participatory science, environmental education and communication of community-based processes in the most biodiverse places of the Neo tropics. Diego has proposed this approach as a conceptual framework and has successfully applied it in rural communities in Colombia and Costa Rica. He is convinced that access, use and generation of knowledge is a human right and this cognitive justice is the opportunity for the development of vulnerable communities. Diego is a biologist and has a master's degree in wildlife conservation from the National University of Costa Rica.
Eliana Alejandra Camargo Niño
Eliana is the Co-Founder and CEO at Más Por TIC, a social enterprise that works to bring opportunities to the most distant places and disconnected from information, technology, and innovation, where we need to hack the inequalities and inequity especially in rural Colombia. Eliana has cofounded teams with great purposes and actions to transform the territories of Colombia from the perspective of youth through the Citizen's initiative called "Agenda Joven." She works on territorial transformation, peacebuilding and the use of technology and innovation to achieve the SDGs. She is an Engineer with MPA from University College London, a Chevening Scholar, Colfuturo, YLAI Fellow, LIF Fellow and LiderazgoxBogotá Scholar.
Fernando Alonso Rozo
Fernando is the Executive Director of Fundacion Transformación, a community of therapists focused on human development and personal growth in community organizations and the NGOs. Fernando and his team open and facilitate processes of self-knowledge and inner leadership with community leaders, foundations, youth associations, social workers, in order to help them to establish healthy, human-centered relationships with the communities they serve. He was trained in Gestalt and Systemic Therapy at Escuela Transformación Humana. He graduated from CESA with a degree in Business and has a Master in Journalism from Universidad de los Andes.
Ines Yaritza Suarez Quintero
Inés Yaritza Suárez is the vice president of the Corporación Ecoturismo San Martin, whose mission is focused on community socio-economic development through incentivizing, promoting, managing, and developing proposals for alternative economies with the purpose of providing tourist services. She works conducting participatory rural analyzes that help to potentiate projects in tourist, natural, cultural and social resource areas. She is also part of the social and environmental processes carried out by the organization with children and young people with an emphasis on the care and protection of the environment. Yaritza is an environmental engineer from the Santander Technology Units.
James Martin Santiago Escobar
James Santiago Escobar is the honorary Founder of the ASOCAMAGRO Association and the SIDAGRO Federation, dedicated to the integration of companies into the value chain of the agricultural sector, generating synergy under an economic model of solidarity. Its operations have enabled the exponential development of more than 100 production units in the department of La Guajira. With more than 8 years of experience in the agricultural sector, James is an expert project formulator, strategic analyst and designer of integration systems for organizations. James is an Environmental Engineer with a meritorious thesis from the Universidad de La Guajira.
Josefa María Hernández Cabarcas
Josefa María Hernández Cabarcas, is a Co-Founder of the Asociación de Mujeres Palenqueras, para el Desarrollo Integral Comunitario "Kasimba de Sueños". She works with women heads of family, most of whom are victims of domestic violence. Josefa promotes cultural entrepreneurship initiatives for income generation and leads processes aimed at making the situation of black, Afro-Colombian, Raizal, and Palenquera women visible and achieving their empowerment as subjects of law. She is a linguist, Master in Political Science and Master in Public Administration.
Juan C. Mulford M.
Juan co-leads MasterPeace Foundation in Colombia, an organization aimed to connect peacemakers from over 40 countries around the world with skills for peacebuilding using the arts. Juan is bachelor in International Affairs from Universidad del Norte, and M.A. in Arts & Media Administration from the Free University of Berlin.
Juliana Meneses
Juliana is the Leader of Innovation for Sustainability at Grupo Nutresa. Her role focuses on identifying opportunities and accompanying the implementation of solutions that aim at solving some of the greatest challenges faced by the Latin-American region. She is in charge of putting the scale and capabilities of the Organization at the service of its stakeholders and initiatives that create value for Nutresa, the environment and communities. Juliana is a Master's professor in the Socio-environmental Entrepreneurship course at the Universidad de Los Andes. She is an Environmental Engineer from Universidad EIA and has Master's degrees in Environmental Management from Universidad de Los Andes and in Innovation and Entrepreneurship from The University of Queensland.
Luis Alfonso De Ávila Camargo
Luis Alfonso is the General Coordinator of the Corporación Deportiva Real Star, whose mission is to promote social transformation using sports, recreation, and physical activity as a platform. Luis works with boys, girls, adolescents, and adults to counteract invisible barriers, the scourge of drugs and unwanted pregnancies through the Isla Barú Sports Project. Luis Alfonso is a physical educator from the University of San Buenaventura.
Maria Camila Galvis
Maria Camila works as the Regional Program Manager of the Software Donations Program at Techsoup Latin America, a program that generates IT savings for nonprofits and strengthens the digital skills to reduce the technology gap in the third sector. Maria is an Industrial Engineer in the search for balance between financial sustainability and impact generation. Her experience as an entrepreneur at Fundación Ideamos was the key to prioritizing technology and alliances as keys to success in the social sector.
Maria Fernanda Franco Ortiz
María Fernanda has worked for 7 years in the Amazon Conservation Team, an organization that protects tropical forests hand in hand with local communities. From there, she has accompanied the strengthening of the governance of the indigenous communities of Caquetá and Putumayo, based on strategies that broaden perspectives, community assessments and provide tools that guarantee the management of the territory, and the well-being conditions of its inhabitants. She is a Forest Engineer, Master in Forest Management, Use and Conservation.
Mónica Borray Escalante
Mónica Borray is the Social Director of Mochileros x Colombia and is in charge of the design, development and execution of sociocultural projects, where she works hand in hand with Afro, indigenous and peasant communities to co-create processes aimed at improving their quality of life using community-based tourism as a tool for transformation. Monica is a designer from the Universidad Javeriana.
Navin González García
Navin González is the Planning Counselor of the Department of Sucre, Director of Aglojoven Sucre, GIADECO ESAP Researcher, and Co-Founder of the virtual platform Dialogos por Colombia, from the territory. Navin is a professional in Public Administration, Winner of the CONFINARTE 2020 portfolio of the Mixed Fund for the Promotion of Culture and the Arts of Sucre, Essay category.
Oscar Willian Horta Mendoza
Oscar is the Coordinator of Relationship with Higher Education Institutions in Seguros SURA, where he leads initiatives for learning and developing young talent. With more than 15 years of experience in public, private and social sector entities, he has managed to design and implement educational, human development, and social management initiatives that favor learning. He is a business administrator from Universidad de Antioquia and holds a master's degree in Social Management from Universidad Externado de Colombia.
Rocio Alejandra Castellanos Arias
Rocio Alejandra is General Direction Advisor of Agency for Reincorporation and Normalization (ARN), the entity that leads the Public Policy for Reintegration and Reincorporation aimed towards former combatants. With 9 years of experience in peacebuilding issues, Rocio runs the negotiation with stakeholders to form alliances and generate resources which reaches over 51,000 people who left the armed groups and today set an example of leadership, empowerment, and reconciliation in Colombia.
Roger Hidalgo
Roger Hidalgo is a Chief Executive at The CreativeLab, a triple impact organization which purpose is to create solutions for the people and organizations to allow them to sustainably thrive and give then access to innovation and entrepreneurship tools. Roger has a master degree in creativity, innovation, and social entrepreneurship.
Rubén Darío Silva Paz
Rubén Darío is the Executive Director of "Centro Cultural Jovenes para Jovenes" Foundation. Ruben's mission is to create educational, cultural opportunities which are mediated by art entrepreneurship community, leadership, conflict transformation, and peacebuilding. Rubén works with young people from various artistic and social groups with special training which includes emotional training, pedagogical strategies, and cultural management. Ruben's work involves mentorship to initiatives led by women and mothers. Ruben coordinates the literary circle "Mi palabra" and he is a specialist in management and cultural affairs.
Vanessa Ortiz Rios
Vanessa is the Director of Wellbeing at the Vive la Cumbre Foundation (VLC) where she makes educational journeys focused on developing environmental awareness and collective leadership, with young people from areas affected by the armed conflict in Colombia. Vanessa leads the development and implementation of wellness strategies embedded in the foundation's training curriculum and practices. Currently, she also works at Holss, an educational venture that arises as a Mattelsa incubation project. Vanessa is a product design engineer.