Welcome the 2022 Acumen Fellows in East Africa
East Africa's 2022 cohort of Acumen Fellows continue to build a more just, inclusive, and sustainable world.
December 20, 2021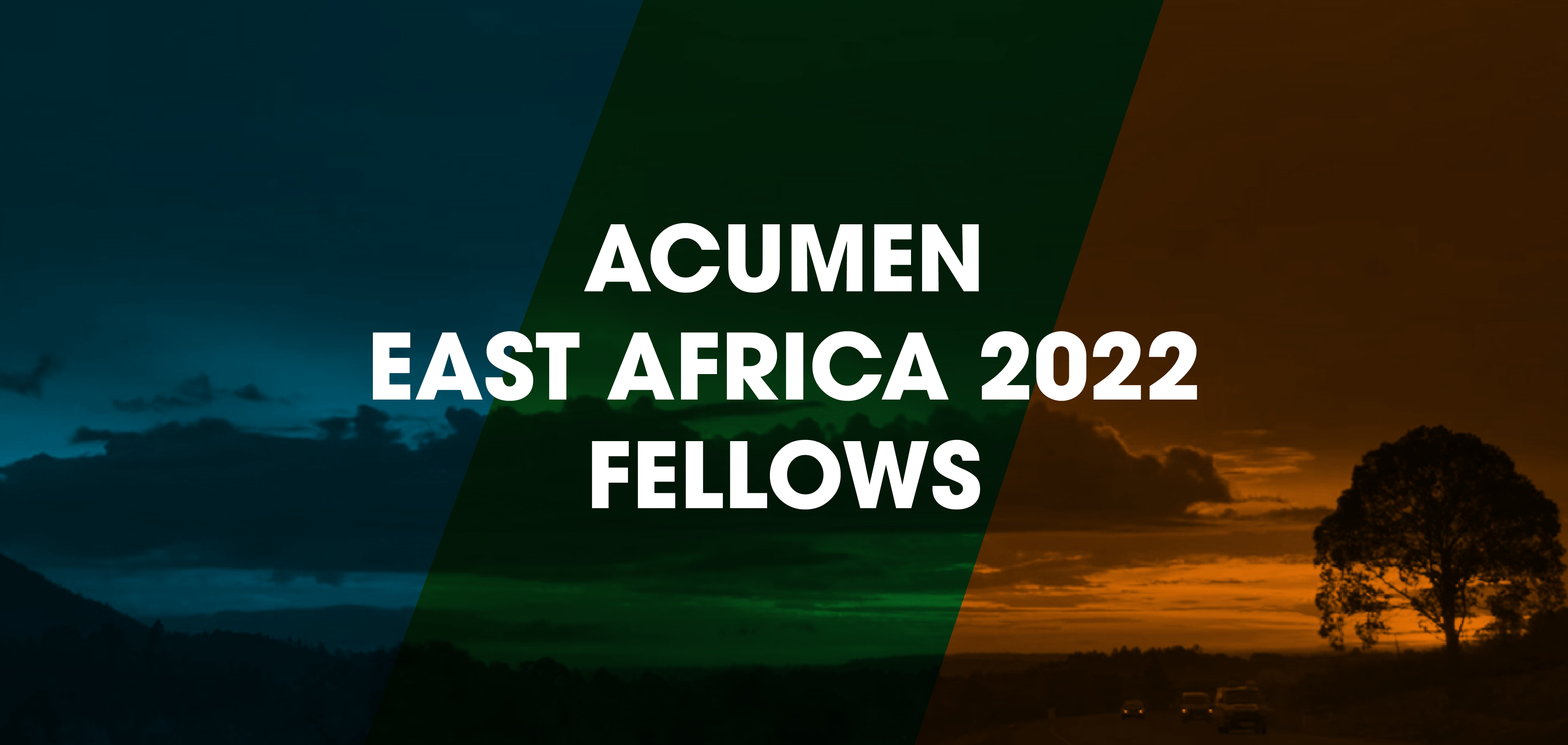 Each year, the East Africa Fellowship brings together around 20 extraordinary individuals who are tackling poverty and inequality in their communities, and equips them with the knowledge, skills, and community to strengthen their leadership and accelerate and sustain their impact. Our intensive leadership development programme furthers our Fellows' journeys toward mastering the skills, attributes, and values of moral leadership.
From Education to Healthcare, Financial Inclusion to Agriculture, the 2022 East Africa Fellows are 21 outstanding and courageous leaders from Burundi, Ethiopia, Kenya, Tanzania, Rwanda, and Uganda. They are coaching young social entrepreneurs, providing menstrual and sexual reproductive health services, providing child support initiatives, building water purification systems, building sustainable food systems, empowering youth, and so much more.
In the coming months, the Fellows will come together to learn with and from each other in a series of workshops and immersive seminars. Upon completion of their first year, they will join Acumen's growing community of 900+ social innovators & builders from across the globe, accompanying each other to create a world based on dignity. Learn more about the 2022 East Africa Fellows and how they are changing the status quo through their work.
Alice Acomo
Acomo Alice is the Proprietor and Co-Founder of Restoration of Hope Uganda and Mt. Gerizim Nursery and Primary school in Uganda. This is an initiative created to see the community living in extreme poverty become self-sufficient and poverty-free by supporting children to achieve education and empower the local community with diverse knowledge, livelihoods and resources. Alice also offers business and financial management consulting services to young people and emerging organizations or institutions.
Athanase Niyongabo
Athanase Niyongabo is an Assistant Education Program Manager and Access Program Coordinator, at the Village Health Works (VHW) in Burundi since 2018. He has been teaching English for 10 years in both private and public high schools, and is also passionate about youth intellectual and physical development. He has endeavored to mentor youth on ways of reducing school dropouts and early pregnancies, initiating the "Let Them Come Back To School" project.
Florence Akara
Florence Akara is a Director of Femme International in Nairobi, Kenya. Femme International is a non-profit organisation that has served 8 years of Menstrual Sexual Reproductive Health (MSRH) education, research and product distribution in East-Africa. Stigma, taboos and myths negatively affect the physical, psychosocial health of women and girls. Florence dedicates efforts at Femme to refining the Twende Initiative, a feminist social business solution to disrupt the status quo, and achieve universal menstrual equity by 2030.
Henry Othieno
Henry Othieno is the Founder and CEO of Tusafishe, a social enterprise in Uganda that builds water purification systems for large, marginalized communities. He is passionate about helping marginalized communities find solutions to their most challenging issues. Tusafishe also trains rural women in biological water purification technology so that they can build domestic filters to sell and earn income for their homes. Henry holds a Bachelor's degree in Accounting and Finance from Kyambogo University and a Certificate in Applied Social Innovations.
Hildergade Mehrab
Hildergade is the Program Manager of Child Support Tanzania, an organisation that addresses the issues of human rights and access to social services and opportunities for Children and Youth with disabilities in an inclusive setting. Hildergade believes that self-discipline, accountability and inclusive access to social services is a tool that acts as a catalyst for inclusive education and community for all and creating a better, healthy and safe space to reach one's goals/dreams.
Ivan Koreta
Ivan is a Membership Development Associate at the Innovation Village, where he supports Uganda's leading Innovators and entrepreneurs, to converge, enable and unlock their potential through tech and data. He is a Computer Engineer and Pan-Africanist and has served in roles as a Protocol and Public Diplomacy Assistant and Data Analyst. Ivan is also a World Economic Forum Global Shaper with the #KampalaHub. Ivan is a creative and dynamic person with a passion in penetrating the spheres of life.


Jim India
Jim is the Acting Programs Manager at Emerging Leaders Foundation, where he oversees the fulfilment of the organization's strategy through programme initiatives that align deliverables with outcomes and impact. He thrives in setting up organizational systems, processes, and procedures for long lasting impact. Based in Nairobi, Kenya, Jim manages social media pages, creating captivating written and visual content resulting in partnership and funding opportunities for the organization.
John Mary Vianney
John Mary Vianney is the Founder and Executive Director of JM Education and Research Centre (JMERC) in Uganda. He envisions a world where all children and youth acquire quality education. Prior to this role, he worked as a Principal at Luigi Giussani Institute of Higher Education, Kampala. At this Institute, employability skills and values of youth, gender equity in education, as well as the quality of education for students at primary, secondary, and post-secondary levels are enhanced
John Ngare
John is the Co-founder and Executive Director of Lepta community in Nairobi, Kenya, which enables youth-led community transformation through facilitating platforms that nurture leadership, employability, and entrepreneurial skills. Lepta serves youth and children in Mathare and its environs and has ongoing program engagement in Kwale, Embu and Karen in Kenya. John also leads Mathare Children's Education (MCE) that facilitates education, food, shelter and health programs for orphans and vulnerable children from informal settlements in Nairobi.
Jude Okongo
Jude Okongo is currently the Director of Programs and Business Development at Youth Alive Uganda, a National NGO whose mission is to holistically empower children and youth to become resilient and live fulfilling lives. Jude is a social worker with 10 years' experience in integrated youth development programming, and an experienced program content developer and trainer with particular interest in applied learning and participatory training methodologies. He holds a Master's degree in Institutional Management and Leadership from Uganda Management Institute.
Kandabu Shirley
Kandabu Shirley is a Co-founder of the icreate Project in Kampala, Uganda, a platform that works to skill and connect low income makers to market opportunities whilst providing inclusive financial products such as payments, savings and credit. She is passionate about building inclusive systems and products that meet the needs of women, youth and low income communities. Her organization works to integrate Ugandan makers into the global economy and find affordable ways of bringing their products to international marketplaces.
Kenneth K. Mwarandu
Kenneth is Chief Operating Officer at TAI LTD, where he manages the production and distribution of SafariSeat - the first low-cost, off-road wheelchair designed and manufactured in Kenya changing the lives of low income mobility impaired people in Africa. He is a dedicated leader driven by his desire to serve others and create lasting positive change in his community. Ken's primary goal is to provide assistive devices for people with disabilities, and establish systems which support them.
Leo Henghes
Leo is the Co-Founder and Team Leader at United Social Ventures in Uganda. He has lived in Uganda since graduating from Oxford in 2013, starting with a year at Makerere University's Nsibirwa Hall and now with wife Esther, and daughter Emara. At Nsibirwa, the model to coach young social entrepreneurs at the very start of their journeys was formed with the realisation that technical and emotional guidance was more important than immediate financing.
Leon Victor Mushumba
Victor is an International Consultant for the School feeding interventions in Rwanda and other parts of Africa. He provides leadership in ensuring that children are not attending school on empty stomachs to improve their education, nutrition, and health outcomes. Prior to joining the WFP, Victor ran a Water Project that provided water collection and treatment solutions and behaviour change messages to reduce waterborne diseases. Victor holds a Bachelor's degree in Applied Statistics and a Masters Degree in Development Studies.
Linda Sigilai Mang'oka
Linda Sigilai is a Nutritionist by training and a Social Entrepreneur by passion. Her life mission is to promote women empowerment. Linda is currently running a manufacturing business that provides employment opportunities for formerly imprisoned women and skills training for youth in Kenya. Linda also runs a support group for young mothers providing access to information on maternal and child health. Linda holds a Master's degree in Public Health Nutrition and a Bachelor's degree in Human Nutrition and Dietetics.
Nic Odhiambo
Nic Odhiambo is the Co-Founder of Organic Life Limited, an agri-technology social enterprise based in Nairobi, Kenya that leverages technology at the intersection of sustainable food systems and positive human health to develop relevant solutions in the value chain. A Fellow of the Future Food Institute, Nic is a Chef-Entrepreneur and author passionate about food systems and how food can be used as a powerful tool. Currently, he is focused on developing a food wastage reduction framework for hotels and restaurants.
Olive Safari
Olive Safari is the Country Manager at Miracle Corners Rwanda, an affiliate of MCW Global in New York. Responsible for the implementation, operation, donor engagement, fundraising activities, and review of all programs at MCR where youth are provided competent skills in Technical vocational training and market readiness, preparing them for the Labor market. Olive holds a Bachelor's degree in Business Administration from the Kigali Institute of Science and Technology and a Postgraduate from Maastricht School of Management, Netherlands.
Rebecca Maundu
Rebecca Maundu is the Global Client Partner (Development Agencies) with Safaricom. Based in Nairobi, Kenya she manages Safaricom within the Vodafone/Vodacom group in partnering with development agencies to co create solutions leveraging on technology that positively transform humanity. Her passion is in solutions that touch on health, education, agriculture and livelihood. Having grown surrounded by communities plagued by illiteracy, hunger and poverty she is keen on utilizing her sales skills in the agribusiness ecosystem. She holds a Master's in International Relations/Development from USIU-Africa.


Rositsta Zaimova
Rositsa is a Co-founder and Uganda Director at Dalberg Data Insights. In the past 6 years, Rositsa has led the design and development of analytics products in Sub-Saharan Africa with focus on public health, agriculture, energy, gender. She holds a Bachelor's in Economics from the American University in Bulgaria and a MSc in International Management from ESADE. She was named one of Forbes' 30 Under 30 Social Entrepreneurs.
Selam Abraha
Selam Abraha is a Health and Wellness specialist at Samaritan Health and Education Support Center (SHE) in Addis Ababa, Ethiopia. SHE is a social enterprise that supports students and their families whose main source of income is based on garbage collection and recycling. Prior to joining SHE, Selam worked as a consultant for a non-profit called Lifebox that works to make surgery and anesthesia safer on a global scale. Selam holds a Masters in Public Health from Addis Ababa University.


Tulanana Bohela
Tulanana is the Co-Founder of the OnaStories Group - a storytelling and extended reality production business. OnaStories Group includes Ona Kesho, a lab for the future of storytelling technologies, and the OnaStories Expert Network. Tulanana's work helps organizations and individuals find and tell their stories well. From long form documentary and journalism productions, to pioneering work in East African virtual reality and augmented reality.