Meet the 2021 Fall Cohort of Acumen Fellows in India
Join us in welcoming the 2021 Fall Cohort of India Acumen Fellows for an immersive and challenging journey towards creating change through innovation and solutions that are authentic to its people and the space.
April 15, 2021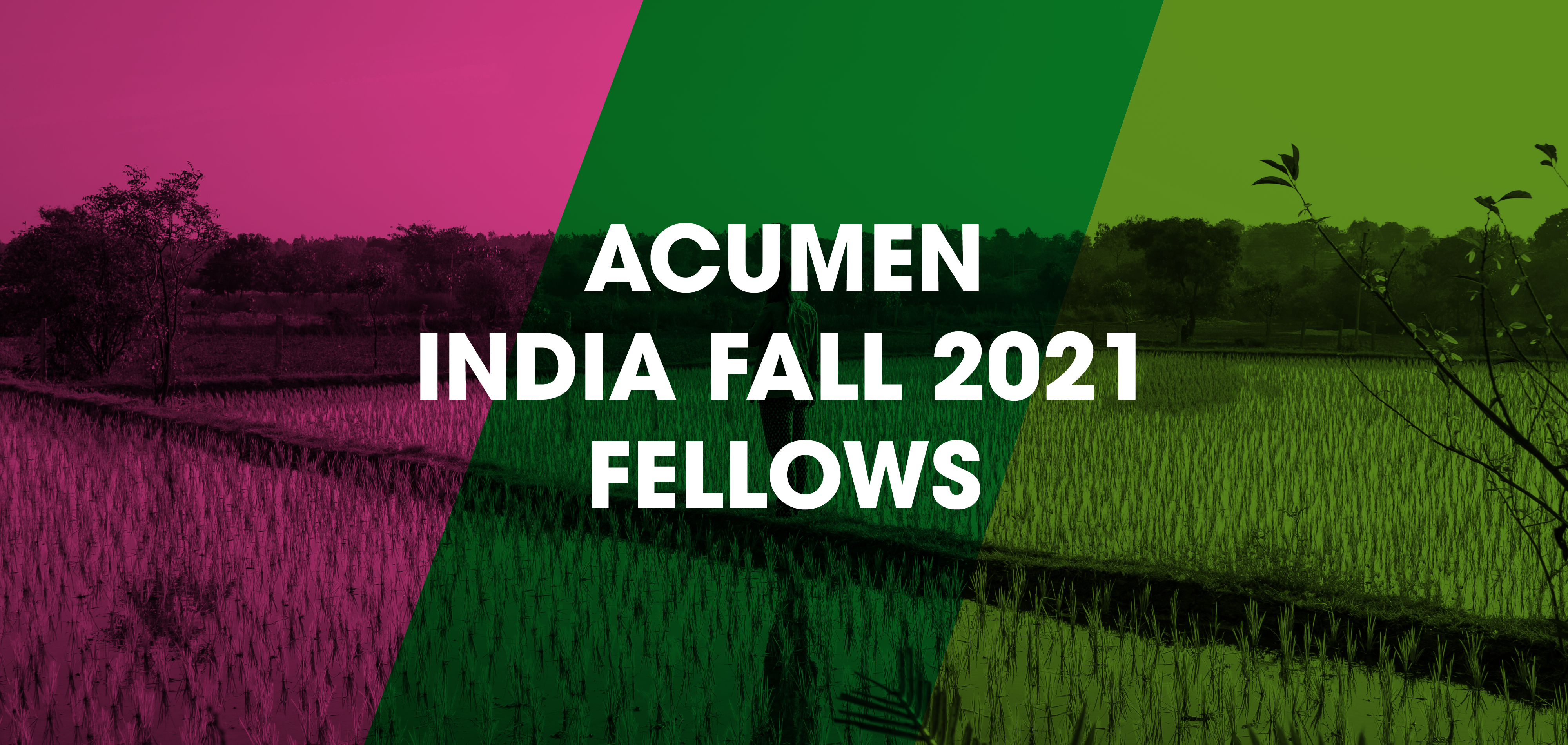 Our 2021 Fall cohort brings together a spectrum of approaches to solving issues of poverty and injustice, ranging from improving health outcomes of rural and tribal women to building inclusive learning spaces through sports. Motivated and determined to create a just world where every life matters and is lived with dignity, each of these 20 individuals is committed to a lifelong journey of doing what is right, and not what is easy.
Join us in welcoming the 2021 Fall cohort of Acumen Fellowship as they come together in a series of seminars and workshops over the next 9 months to build upon each other's experiences, cross lines of differences and build a lifelong commitment to accompany each other.
Aditya KV
Founder & CEO of Umoya Sports Foundation
Aditya is Founder and CEO of Umoya Sports, a Delhi based non-profit empowering children with and without disability through their sports and play-based education program and building an inclusive culture in schools. Umoya has made learning fun and inclusive for more than 12,000 children through their adapted physical education program and inclusive sports festivals. Prior to Umoya, Aditya was a Teach for India Fellow and headed an international sports management organization.
Archana Stalin
Founder & Growth Champion of myHarvest Farms
Archana is Founder and Growth Champion of myHarvest Farms, an organization improving farmer livelihoods and making safe, naturally grown food possible for families through community farming. Prior to myHarvest, Archana was the Marketing head at Naturals and previously played a key role in building an entrepreneurship ecosystem in tier 2 and tier 3 towns. She studied engineering but is a proud organic farmer, an educator facilitating nature-based learning and a recognized motivational speaker.
Ashok Rathod
Founder & Executive Director of OSCAR Foundation
Ashok is Founder and Executive Director of OSCAR Foundation, a sports for development non-profit using football as an incentive to keep children in school. OSCAR offers football coaching to children belonging to underprivileged communities in Mumbai and Karnataka and operates Digital Learning Centres across Mumbai to help facilitate and promote education. OSCAR also identifies youth and provides leadership training for them to inspire future generations within their communities.
Kailash Karthik
Deputy Commissioner at Government of India (Kamrup District)
Kailash is an IAS officer, posted as Deputy Commissioner of Government of India, Kamrup District, Assam. Earlier, Kailash served as Joint Secretary, Finance and helped drive several tech-led initiatives to transform the Public Finance Management system, which won multiple awards nationally and internationally. Prior to joining the Civil Service, Kailash worked as a Strategy Consultant with IBM, driving IBM's growth across all emerging markets globally.
Kashina Kareem
Assistant Director at Prerana
Kashina is Assistant Director of Prerana and heads Anti-trafficking Center interventions. She also leads the post-rescue operations program for the rehabilitation of those rescued from the sex trade. Prior to Prerana, Kashina was associated with the Gandhi Fellowship program of the Piramal Foundation working with the public education system.
Madhavi Jadhav
Founder & CEO of ThatMate
Madhavi is Founder and CEO of ThatMate, an organization providing tech solutions on sexual and mental health for teens. It helps youngsters to make informed choices about their body, preferences, mental health and social life. It helps schools to handle issues like bullying, peer pressure, love and relationships in a better way. Prior to ThatMate, Madhavi worked with Royal Dutch Shell. She is a petroleum engineer by qualification, a state-level boxer, and likes to travel.
Mayank Chaturvedi
CEO of Zila Panchayat
Mayank is an IAS officer posted in Chhattisgarh and CEO Zila Panchayat of three-level Panchayati Raj in Dhamtari District. The Panchayati Raj works towards economic upliftment and social change through various government interventions, self-help groups, non-governmental organizations and cooperative societies.
Monalisa Padhee
Program Head of Women Wellness Initiative at Barefoot College International
Monalisa leads the Women Wellness Initiative (WWI) at Barefoot College International, which works towards improving the health outcomes of rural women. She and her team develop an interactive curriculum enabling grassroots leaders to disseminate health information in their communities. Prior to Barefoot College, Monalisa was an SBI youth fellow for India, Aspen New Voices fellow and Atlantic fellow for health equity. She holds a doctoral degree in Medical Science from the University of South Australia.
Nikita Dcruz
Founder of Koshika
Nikita is Founder of Koshika, which works for the health of women and children of tribal villages within the Panna Tiger Reserve (Madhya Pradesh). Koshika is building better health practices through one-to-one counselling, access to health services and support during emergencies to tackle extremely high infant death rates. Nikita is a former India Fellow and a Young India Fellow. She holds a Master's degree from the Habitat School of Tata Institute of Social Sciences.
Nitesh Bhardwaj
Founder of Aadiwasi Janjagruti
Nitesh is Founder of Aadiwasi Janjagruti, an initiative under the Ulgulan Foundation, creating hyperlocal social awareness in the Nandurbar District of Maharashtra. It is bridging the gap between the government and its people and highlighting local issues using informational videos in local languages on government schemes. Prior to Aadiwasi Janjagruti, Nitesh worked as Project Officer, District administration, and an Associate to Member of Parliament. He is a former SBI Youth for India fellow and holds a master's degree in Communications.
Pooja Mishra
Founder of Gurukul Schools and Yellow Roots
Pooja is a social entrepreneur and Founder of Gurukul Schools, which provides free and subsidized education to underprivileged children. It provides equitable educational and social opportunities to children from rural regions and helps them have better life prospects. She also founded Yellow Roots, a social enterprise supporting women and farmers. It connects farmers directly to the consumers to generate direct income.
Prabhat Sinha
Founder of Mann Deshi Champions
Prabhat is Founder of Mann Deshi Champions, an organization providing opportunities to young girls and boys from rural regions to be courageous, play sports and earn a living. It helps girls to become breadwinners of their family and thus avoid early marriages. Prabhat has also built a library, an education center and ppt partnership hospitals for rural and nomadic tribal communities. Before Mann Deshi Champions, Prabhat was a sports agent in the US. He holds a master's degree from Georgetown University.
Qurat- ul-ain Masoodi
Chairperson of Aash
Qurat- ul-ain is Chairperson of Aash, a community-based rehabilitation initiative for orphans that prioritises mental health. Aash focuses on skill development through local crafts and helps in establishing small business units to promote financial stability. Aash also mobilizes marriage-grants and financial-aid for young women from downtrodden parts of society.
Raghu Vasu Adusumilli
Founder & CEO of Trimurti Plant Sciences
Raghu is Founder and CEO of Trimurti Plant Sciences, a research-driven seed company that develops superior seeds to enable farmer prosperity. He believes delivering quality seeds to small-holder farmers can significantly reduce rural poverty dynamics. Raghu is a PGDM gold medalist from IIM Kozhikode and holds a master's in Law from Osmania University.
Saurav Malhotra
Co-Founder & Designer of Rural Futures Innovation
Saurav is Co-Founder and Designer of Rural Futures Innovation at Balipara Foundation. Rural Futures integrates ecological gains with upward socio-economic mobility of forest-fringe communities across the Eastern Himalayan region. Saurav and his team mobilize forest-fringe communities (esp. youth) to engage in the complete value-chain of ecosystem restoration. Communities utilize the natural capital derived sustainably from the restored habitats to deliver universal basic assets - locally and autonomously. Saurav holds a master's from the University of Manchester.
Shailesh Dixit
Co-Founder & CEO of Gromor Finance
Shailesh is Co-Founder and CEO of Gromor Finance, a full-stack, tech-enabled financial services organization providing access to affordable capital for micro and small businesses in India. Shailesh is responsible for fostering ecosystem partnerships enabling financial inclusion of unserved small, formal/informal, gig business communities. Prior to Gromor Finance, Shailesh ran product engineering and research functions at Hewlett Packard (HP). He holds a bachelor's degree in engineering from National Institute of Technology and a post-graduate diploma from Indian Institute of Management.
Soumya Dabriwal
Founder of Project Baala
Soumya is Founder of Project Baala. It tackles problems of menstrual hygiene in India: the expense of commercial menstrual products, menstrual waste mismanagement and societal myths and taboos. Baala has a long-term approach to systematically transform the core problems of menstrual hygiene awareness and product availability across vulnerable and marginalized communities. Prior to Baala, Soumya has volunteered extensively internationally. She has founded two more organizations, one on innovation in rural education and another on tackling food waste.
Sweetlana Ranjan
Program Director of Piramal Foundation for Education Leadership
Sweetlana is Program Director of Piramal Foundation for Education Leadership (PFEL) and leads Gandhi Fellowship Alumni Network that supports youth leaders achieve their nation-building agenda. She is passionate about building and engaging youth networks to drive transformation in the Aspirational Districts of India. Sweetlana holds a master's in Sociology from Mumbai University and has a decade's experience empowering youth in the development sector.
Vandita Morarka
Founder & CEO of One Future Collective
Vandita is Founder and CEO of One Future Collective, a feminist non-profit working towards social justice through knowledge, advocacy and community building. Vandita holds an LL.B. from Government Law College and a MA Honours in Public Policy from the University of Mumbai.
Veeresh Pani
Deputy Director of Deshpande Foundation- Kakatiya Sandbox
Veeresh is Deputy Director of Deshpande Foundation- Kakatiya Sandbox, an organization promoting entrepreneurship. It empowers rural and semi-urban communities in India economically through programs focusing on rural transformation in Agriculture, edu-skilling, micro-entrepreneurship, and start-ups to bring sustainable change. Veeresh looks after CSR and donor engagement within the program and has transformed more than 3000 lives through skill development. He holds a master's in social work from Gulbarga University.
In the coming months, we will introduce our Fall Cohort of Acumen India Fellows from a different lens - a human lens. Watch this space as we unravel the journey of these Acumen India Fellows. Stay tuned on Twitter and Facebook over the coming weeks as we highlight their inspiring work.
Interested to Join the 2022 Acumen India Fellows Program? Sign-up here.