At Acumen, we've worked with smallholder farmers for more than a decade. What we've learned in that time aligns with findings from the UN Food and Agriculture Organization: strengthening the agriculture sector is one of the most effective ways to reduce poverty.
Earlier this year, Acumen Academy ran the Pakistan Agriculture Accelerator — our first accelerator in the country — supporting nearly a dozen innovative enterprises preparing to scale. Over the 12-week program, the cohort of agri-enterprises joined interactive learning labs, completed a 6-module online curriculum, and undertook 1:1 consultation calls to develop business and leadership skills and uncover new insights about their work.
We are excited to celebrate the work of these companies who we believe demonstrate the potential to transform the sector in different ways: stronger, fairer, and more efficient for farmers. Between them, they touch on the themes of modernization, tech, and consumer attitudes. Another key theme that emerged from their collaboration is climate resilience — more specifically, how they can help farmers respond to the climate crisis.
It's important to note that businesses serving smallholder farmers need time to gain trust and must bear the costs of poor infrastructure in rural areas. As you read more about their work, we encourage you to think about ways you can support these enterprises on their missions.
Congratulations to the participating teams! Here's a look at their inspiring next steps and greatest takeaways:
AgriDunya is an agri-tech company aiming to digitally revolutionize the agriculture sector of Pakistan, bringing a fair trade-focused procurement platform to millions of agri-consumers in the country.
"The most important aspect was the knowledge gained. The Acumen facilitators did an excellent job in assisting us in improving our business strategy and communicating with other startups, which helped us learn other business models and strategies."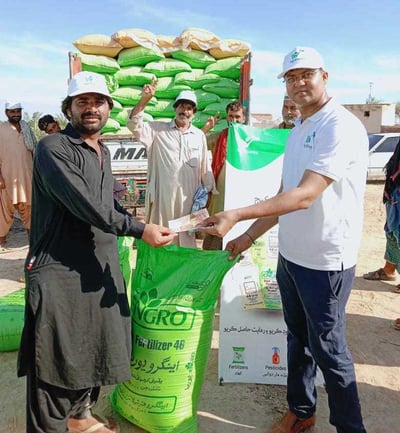 Photo courtesy of AgriDunya
Mawesh E-Mandi is an agri-tech platform working to digitize the market for livestock in Pakistan and enable greater efficiency and transparency in the livestock supply chain.
"It was motivating to see that an equal emphasis on our financial model and our impact, so that financial feasibility becomes one of the essential pillars for our business model going forward. Another important tool that helped was the financial projection tools that we used, as they allowed us to fully lay out the skeleton of our business model, and allocate costs and revenues to the entire system."
Sana Dairy Amdan Farm is a youth-led social enterprise in Tajori that aims to empower women and alleviate poverty by making the dairy market inclusive, accessible, quality-oriented, and modern tech-based.
"The 1:1 guidance and sessions on leadership had an immense impact on me. I built my understanding of moral leadership [on] searching for the potential within a team and creating win-win situations: through vulnerability, always with mutual respect for each other's value, and the power to say 'no.'"
PakAgriMarket is a content-backed multi-vendor marketplace for agriculture in Pakistan. They digitize brick and mortar agri-vendors and enable farmers to select better quality products throughout the country at cheaper rates, which helps bring production cost down and provide a marketing platform for small agri-businesses.
"We learned to be problem-centric, not product-centric. [The latter] leaves less room for flexibility, adoption and improvement; while [the former ensures that] evolution is continuously seamless and innate. As a result of this learning and conversations with the Acumen team, we will now be more focused in one direction and plan to re-allocate resources to tasks which are more rewarding in terms of revenue."
Soby Agro's mission is to improve the lives of farmers, farm contractors, and associated labor through their platform by providing them with correct information and empowering them with mechanization.
"We will be operating in three locations in the next six months and will scale up to serve 2,000 farmers each month. The program helped us towards this with the customer experiment hypothesis that we built, and the testing we did helped me make decisions backed by evidence and results."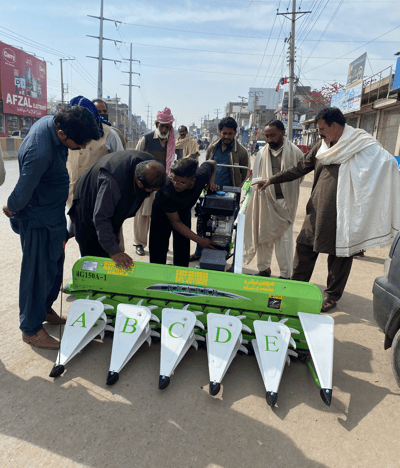 Photo courtesy of Soby Agro
Khaalis is a Digital Dairy Marketplace providing fresh organic dairy products straight from farm to doorstep through a network of tech-enabled supply chain and cold storage.
"For business and tech disruption in any society—but specifically in the emerging markets—it's necessary to have like-minded individuals come on board and join together for a better future. I think accelerators like this are a perfect platform for this purpose and I would definitely recommend [to] other social entrepreneurs."
ZSS empowers organizations to foster collaborative thinking and drive workplace innovation. They aim to provide cutting-edge facilities to local industries — especially the agriculture and aviation sector — through a combination of evolving technologies and leveraging agile frameworks, helping businesses grow and foster a consumer-first mindset.
"The accelerator program helped us in pivoting and shaping our business policies and modeling to make maximum impact on what we were missing before."