Meeting Challenge with Collaboration
Former Accelerator teammates partner to bring East African culture and craftsmanship to the U.S. market
June 02, 2021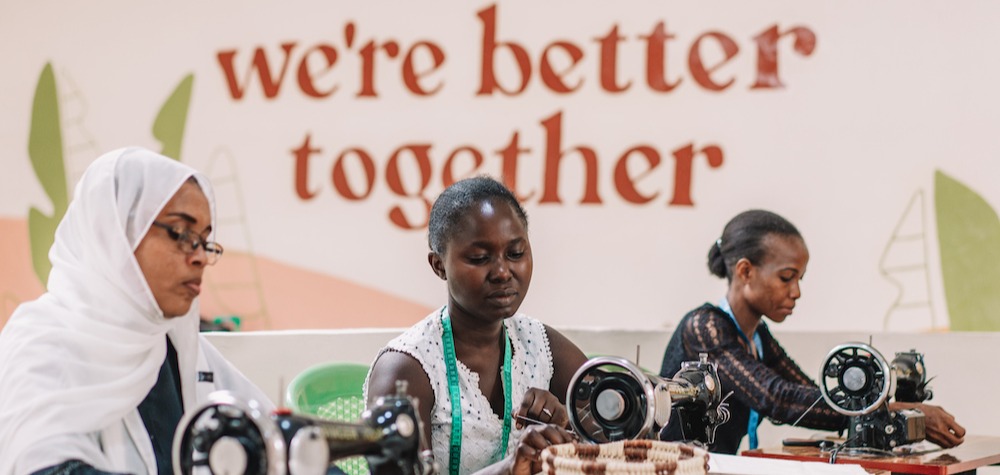 As IKEA Social Entrepreneurship and Acumen Academy launch their second cohort of social enterprises ready to gain the knowledge and skills to scale their social impact, we're reminded that partnership is one of the most powerful tools to tackle the world's toughest challenges.
Last year's inaugural
cohort
pivoted and persevered in an unprecedented time, showing us that finding partners with similar values and vision is crucial for any business looking to stretch their reach beyond a single community or country.
Tibeb Leather Works
had their sights set on the latter. Tibeb is an Ethiopian-based business that produces unique leather-bound journals, bags, and accessories influenced by the rich heritage and culture of Ethiopia. Tibeb's artisans are women from disadvantaged backgrounds, who have developed their skills through Tibeb's design training and production workshops to reach their fullest potential.
After achieving success with sales in Ethiopia, Tibeb was eager to expand to the U.S. market. Without a clear roadmap to navigate a new country, culture, and customer segment, Tibeb asked their former IKEA cohort team member — Imani Collective — for help.
"Both of us have manufacturing facilities in East Africa, so we face similar challenges from procurement to personnel. Imani was a few years ahead of us, so whatever problems they faced, they shared how they maneuvered those problems with us," said Yonatan Asrat, Co-Founder & CEO of Tibeb Leather Works.
But the Accelerator wasn't the first time Imani and Tibeb had met. "I first met Tibeb at a Kenyan market when I bought three of their bags. When they joined the Accelerator, I said 'wait I know these people.' It was a really cool reunion because I've always admired their craftsmanship of leather and how they're doing it," said Jenny Nuccio, CEO & Founder of Imani Collective.
Imani's social footprint was similar — the Kenyan-based company crafts ethical lifestyle products that empower and create opportunity for women looking to provide for their families. With Imani's foot already firmly established in the U.S., both Imani and Tibeb saw an opportunity for collaboration.
They set out to design a product that would help propel Tibeb into a new market, and allow Imani to launch their first leather product by combining the craftsmanship of East African artisans to design something different.
"I always felt isolated and without help during Imani's growth stage, but our unique point in the Accelerator was that we were one of the only businesses that started internationally and then brought it globally. So I thought, 'how can we use that to benefit and help others?'" said Jenny.
One year after Imani's Accelerator adventure, Jenny reflects on IKEA's guidance in encouraging her to think more deeply about leveraging partnerships as a tool for growth. Since then, both Imani and Tibeb have actively applied lessons learned from their IKEA coaches and their own communities to create a one-of-a-kind leather bag, launching to customers in East Africa and the U.S. at the end of June.
"Our main task was always how we would enter the international market, and this collaboration really gave us an insight into a new customer segment. We also still catch up with the IKEA coaches to talk about our accomplishments and challenges, and they're always available to help us," said Nardos Tamirat, Head of PR & Marketing at Tibeb Leather Works.
Follow along with IKEA and Acumen Academy, as we share challenges, insights, and advice across the next 19 weeks from a new cohort of social enterprises and practitioners doing the daily work of pushing for meaningful progress.