In order to create fisheries that can withstand the changing climate and social environment, leaders must inspire their community and drive action toward a more sustainable future.
Nicolás "Nico" Gómez Andújar is making it his mission to do just that. As a participant in our Resilient Small-Scale Fisheries Leadership Accelerator in partnership with Environmental Defense Fund, Nico has been diving into invaluable lessons. The skills he's currently learning in the program are designed to help him navigate uncertainties and change among a powerful network of like-minded peers. Given his multiple leadership roles, he's especially excited to promote sustainability and facilitate communication within the various fisheries communities he works with.
Based in Puerto Rico, Nico serves in three main leadership roles. He's a research technician at Sociedad Ambiente Marino, where he studies coral reefs. He's also the Secretary on the Board of Directors for the newly-formed Asociación Pesquera de Culebra (Fisher's Association), where he manages local and external resources and facilitates a system of "self-organization," giving organizations the tools to problem-solve independently. His last role is as the Community Development Facilitator at Mujeres de Islas, a non-profit focused on women and children that aims to bring food security to Puerto Rico.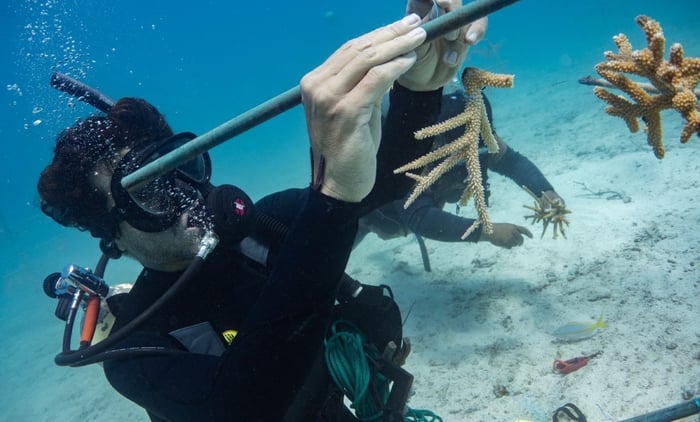 Photo provided by Nico Gómez Andújar
Having left the industry to pursue his studies, Nico describes his return to small-scale fishing as an unexpected twist of fate in his life. "It's kind of a serendipitous path," he explained. Born and raised on Culebra, an island municipality of Puerto Rico, Nico is no stranger to the industry of small-scale fishing — it runs in his family. However, his initial aversion to the trade propelled him to explore higher education in marine conservation, which eventually connected him back to human communities. He quickly learned that "conserving and managing marine resources or any type of natural resource is really about interacting with people and understanding better human behavior and what our needs are."
As his career path led him towards more human-centric work, Nico realized he needed develop his leadership abilities. He was beginning to manage broader conflicts in the small-scale fishing industry, specifically around "things that are very hard to untangle and that don't have a clear answer, such as in poverty and equity." And with magnified stressors, such as back-to-back hurricanes caused by climate change, he wanted to be able to address mounting struggles in a productive way. Around this time, he stumbled across the new Resilient Small-Scale Fisheries Leadership Accelerator.