Turning Data into Action: 3 Levels for Understanding Your Impact Measurement
Learn how to move from stagnant data to dynamic impact measurement to drive change.
November 4, 2022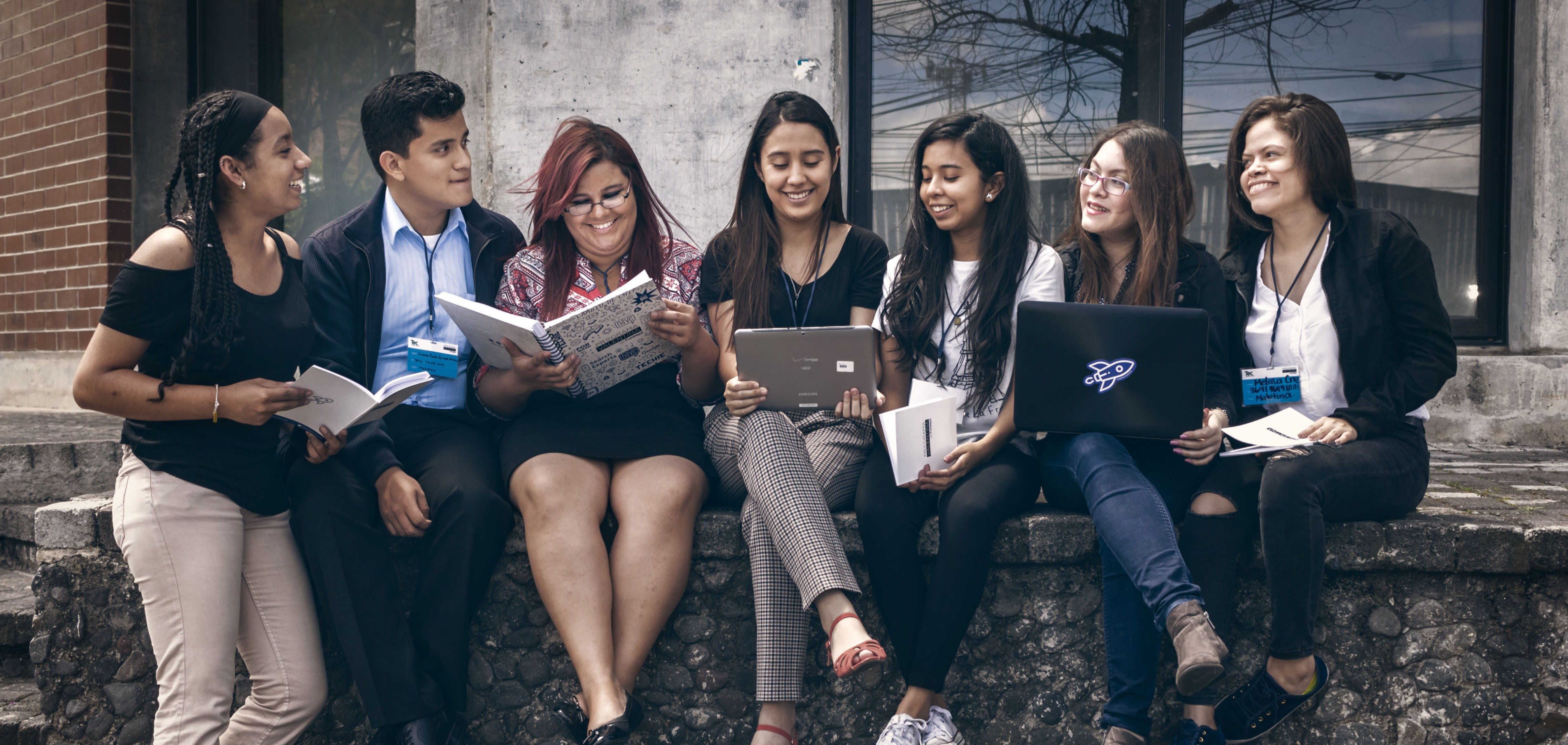 Social impact measurement is the collection of data to measure, assess, and report on your impact performance. For social innovators, it means thinking through ways a product or service impacts people and the environment.
But impact measurement isn't an end-all process. Once you start collecting data to assess your impact, how do you manage it? How do you embed it into your everyday strategy? And how do you ensure you're using data to move from measurement to action?
How can you use measurement not just for measurement's sake, or not just for trying to prove impact, but to magnify it?
Julia Mensink
Head of Impact at Acumen
Acumen's Head of Impact Julia Mensink offers three levels for evaluating your impact:
Household: How is your work impacting the daily lives of the people you serve?
Organizational: How do you know whether your organization is operating well for impact?
Ecosystem: What role are you playing to move the sector in the right direction?
"Impact looks different at the household, company, and sector level," says Julia. "And typically, impact measurement is the activity of data collection and analysis to try to communicate or demonstrate what impact looks like to you at those levels. But where it gets really exciting is when you start to look at impact measurement as a tool for action."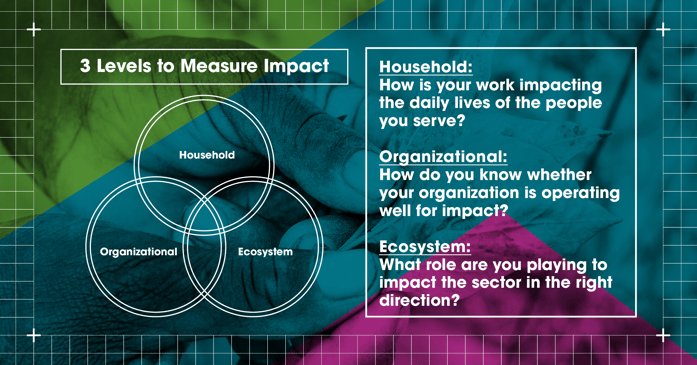 Read below to learn how to view these levels strategically, use them as a framework for measuring impact, and move from stagnant data to dynamic impact measurement to drive change.
HOUSEHOLD
Your household represents your customers on the ground. Beyond capturing customer feedback, taking action at the household level requires building upon the customer voice, checking in periodically, and understanding what matters to them — rather than what your company or investors think might matter.
Assume you're designing a product for farmers and are looking to capture data around gender impact. Using a lean data survey, you'd ask meaningful questions to gain insights from your customers about how your product is creating gender impact.
For example, you might ask your male and female customers to explain if there have been any changes in their household. You'd want them to be specific about those changes, asking them to describe what a positive change looks like to them. Here are a few questions you might consider asking:
Because of our product or service, how have the following changed?
Individual agency:
Self confidence
Choice and control over actions
Control over own money
Empowerment within the household:
Hours spent on household chores
Influence on household decisions
Respect in household
To learn more about how to design a lean data survey, check out Acumen Academy's free Lean Data course and discover the right questions to ask your customers in order to gather the insights you're looking for.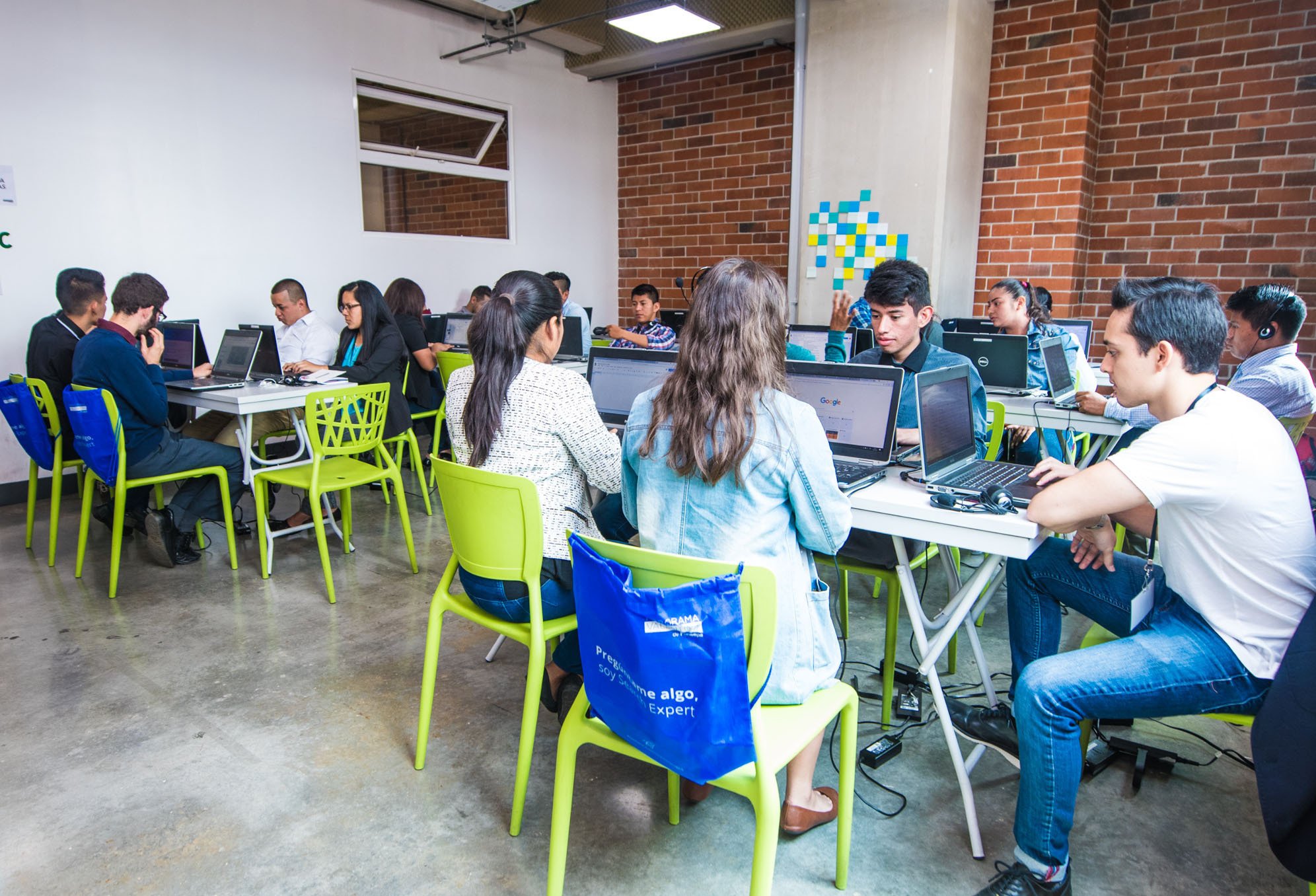 CASE STUDY
USING FEEDBACK TO DRIVE IMPACT DIFFERENTLY FOR UNEMPLOYED YOUTH IN GUATEMALA
Jessica Hammer is Co-founder and CEO of Programa Valentina, an organization that is bridging the skills and employment gap for young people in Guatemala. On a mission to tackle youth unemployment, Programa Valentina works directly with employers on their hiring needs by scouting and preparing youth to fill job opportunities. Since starting Programa Valentina, Jessica has grown her business model from an all-girls coding program to a six-week intensive bootcamp on technical and soft skills training for employment.
But the shift in focus from coding program to bootcamp was a lesson in understanding the household voice, which meant designing the right programs that fit the needs of students and employers.
"It's hard to approach someone with an idea and convince them to adopt it. But if you can identify a customer's problem and be clear about how you can help solve that problem, then people will be more open and willing to work with you," says Jessica.
Looking to place girls in coding jobs, Jessica surveyed different companies on open positions in coding and computer programming but quickly learned that the skills being taught at Programa Valentina didn't match the needs of employers.
"Companies needed coders with 5+ years of experience and a college degree," says Jessica. "We realized that even if we kept going with the program, these types of skills were not what the market was looking for."
After interviewing students, Jessica also learned that young adults were eager to break into the formal economy. They didn't necessarily care about getting a coding job; they cared about getting a quality job that could serve as an on-ramp to a stable career and future. They also didn't have 10 months to wait for a job. They needed one now.
Jessica realized Programa Valentina's impact would be more sustainable if they focused on job security. Instead of continuing with the coding program, they pivoted back to the problem at hand — youth unemployment. They began listening to their household and re-designing programs at an organizational level, which eventually helped them scale their impact across the job market.
ORGANIZATIONAL
The organizational level refers to the strategies, plans, and systems you put in place to act upon the insights your customers are sharing and to measure your impact accordingly.
"What we're learning [from an organizational perspective] is that it's really important to tailor impact measurement to what success looks like per action or intervention. And it's important to think through what success means for both your household and your company," explains Julia.
Looking back at the gender impact example, say you're designing a farming tool and your gender equity goal is to make your product equally as accessible for female farmers as it is for male farmers. Knowing whether women have accessed the tool — "yes" or "no" — doesn't mean anything in terms of real impact. Pushing the needle to understand more would require you to ask household level questions such as:
Are the women using the tool once they have it?
Is the tool making women more productive?
Are they saving costs or time?
How are their lives changing as a result?
Questions like these might lead you to discover that women have access to the tool, but they aren't using it. The reason they aren't using it might be because it's difficult to manage, they haven't been taught how to properly use it, or it's not saving them time and energy.
These kinds of impact measures can help you strengthen your organizational processes and help you better reach your gender equity goals. Perhaps you need to implement a training program to teach women how to properly use the tool. Or you might have to go back to the drawing board and re-design the product to make it easier for women farmers to use.
Incorporating household feedback into your company or organization's strategies is an invaluable step for generating impact. It can help you make smarter decisions, be sharper throughout the planning process, and inform how you implement your product or service to scale the kind of impact you're looking for.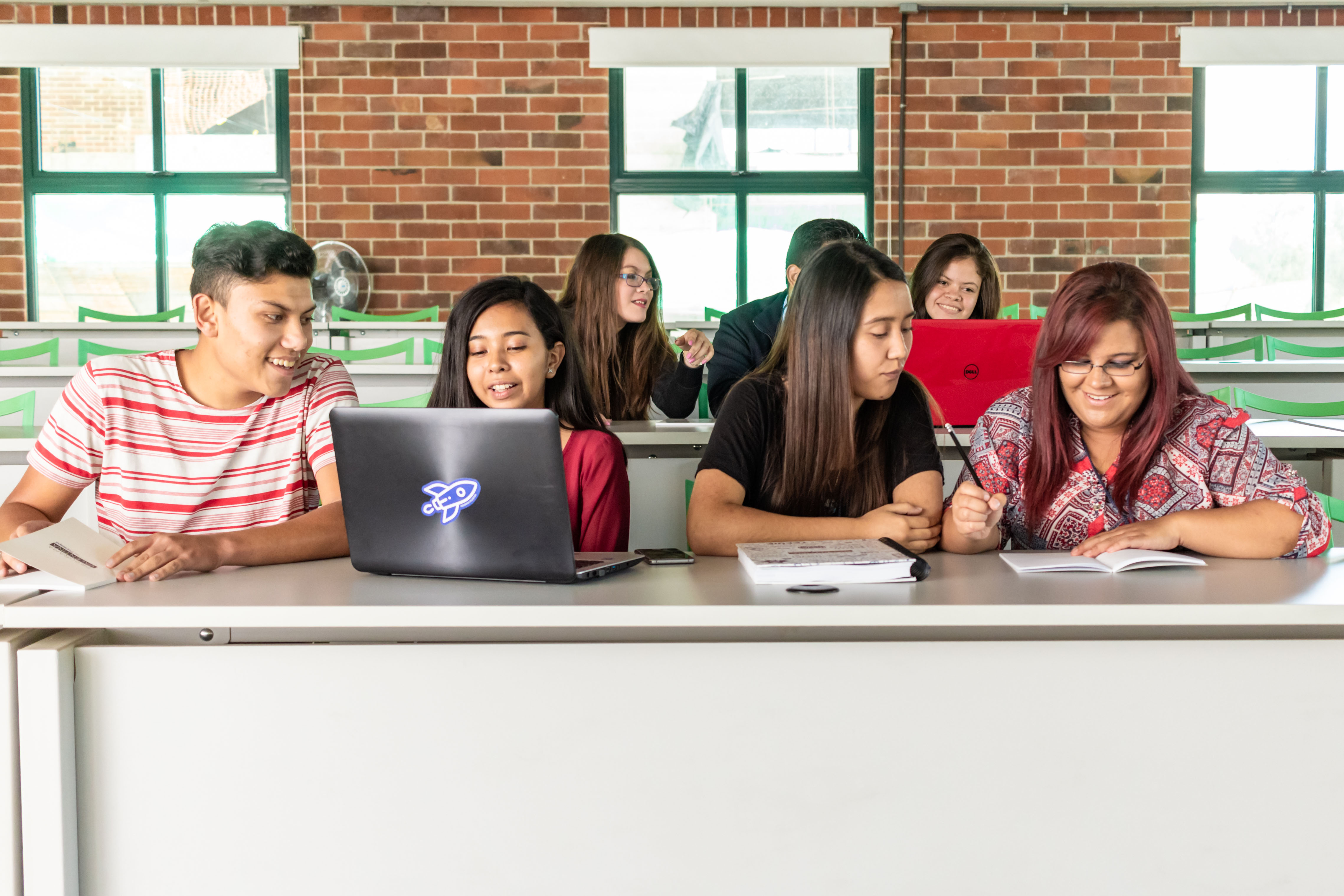 CASE STUDY
USING FEEDBACK TO DRIVE IMPACT DIFFERENTLY FOR UNEMPLOYED YOUTH IN GUATEMALA
To better address the needs of students and employers, Programa Valentina gained valuable insights by interviewing them. Through customer feedback, they were able to redefine what success looks like for the company and transformed their offering into a six-week intensive bootcamp on basic technical and soft skills training for employment. Here's how they've restructured their program to drive impact differently.
First, they consult with employers on their hiring needs and design a customized training program based on desired skills. Then, they recruit candidates by assessing their soft and technical skills, and build an initial diagnosis based on their level of professional development. Based on this diagnosis, Programa Valentina chooses the candidates who have the potential to make it through the program, and the program is adjusted to match the needs of the candidates. For example, candidates that have more developed skills are enrolled in a shorter, more targeted program that accelerates the time from training to job placement.
The program also runs workshops and trainings to emulate real experiences in the workplace and assess how participants react in different situations. Using a series of ongoing tests, Programa Valentina defines, measures, and certifies participants' soft skills. Upon completion of the program, participants are matched to employers based on their unique skills and qualifications.
"It took us a year and a half to rework the pilot, and it's still changing. But for now, we understand where we want to create impact," says Jessica.
ECOSYSTEM
The ecosystem level refers to the broader marketplace or sector you're trying to impact. It's about whether you're contributing to the ecosystem in a way that drives collective impact, which means creating change at a larger scale, beyond your own scope of work.
Measuring your work at a macro level requires research and collaboration. You should be asking: What are others in my sector doing? How can I contribute what I'm doing or what I'm learning in ways that help others in my ecosystem advance their own impact?
One effective way to understand the larger system in which you operate is to adopt a systems practice approach which can help you map out complex systems to gain clarity and identify specific points in the system where you can drive impact.
Understanding the ecosystem allows you to understand how all the players connect. It uncovers the levers to creating change that are otherwise hidden.
Dan Berelowitz
CEO & Founder of Spring Impact
In the example of gender equity above, influencing the ecosystem could mean measuring the impact you're having in the lives of female farmers, and how that impact is contributing to global women's issues. It can mean asking questions such as:
Are you improving women's ability to earn an income?
Are you changing their quality of life by saving them time in the fields so they can have more time for childcare or other activities?
Achieving this kind of actionable impact is possible when you take a holistic approach to impact measurement — gathering valuable insights about your household, acting upon that information within your organization, and proactively taking small steps that lead to large-scale change.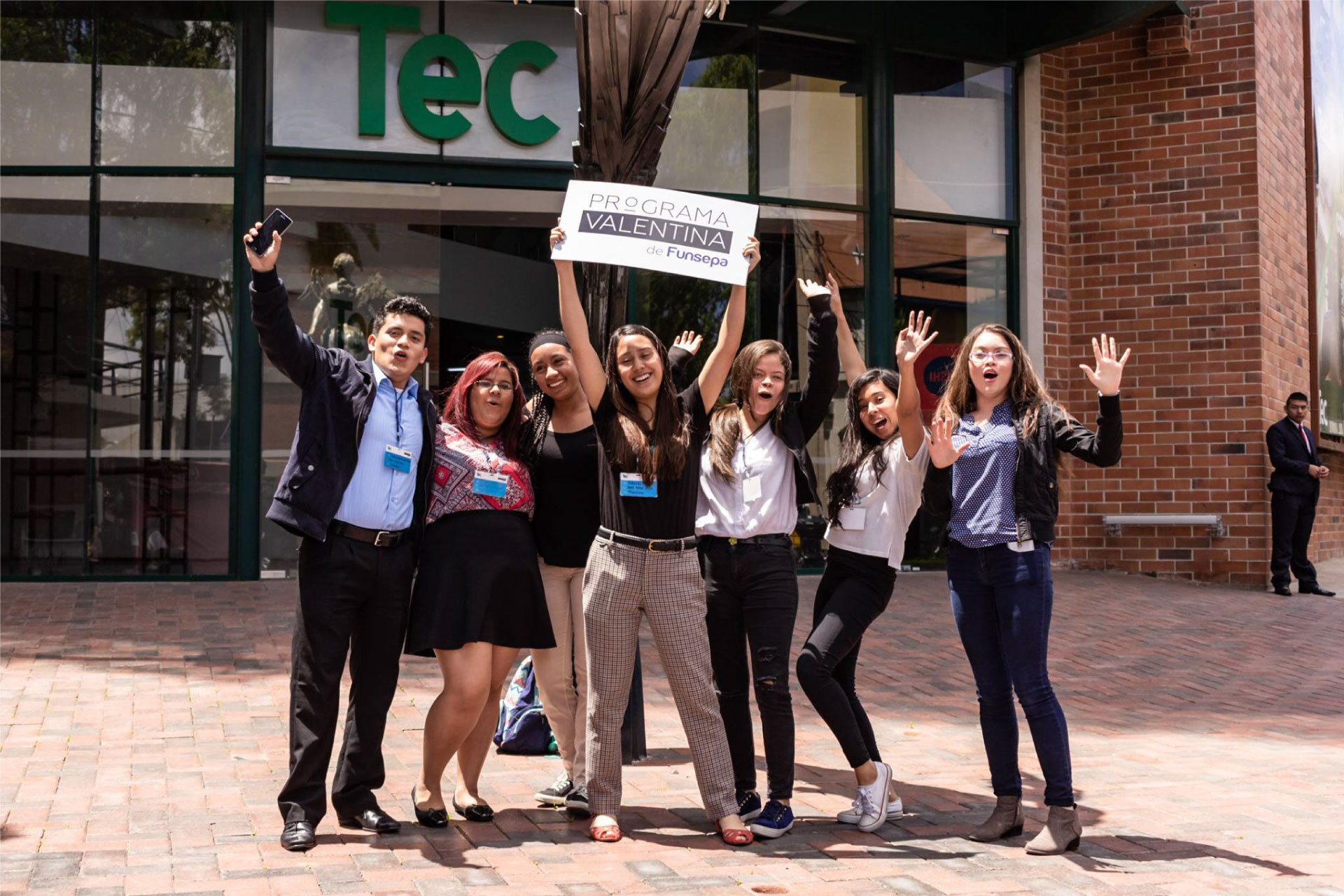 CASE STUDY
USING FEEDBACK TO DRIVE IMPACT DIFFERENTLY FOR UNEMPLOYED YOUTH IN GUATEMALA
Following their successful programming, Programa Valentina was recruited to help a big supermarket chain in Guatemala City rethink their management strategy, and train and hire 150 new cashiers that would be both self-sufficient and sales-driven in their new position.
When Programa Valentina advertised the job posting in their participant database, only four people showed interest in working for the supermarket. Once again, Jessica and her team deployed customer interviews to understand why.
"We discovered that some people thought it would be a downgrade of their expectations for a job. We had to redirect our search elsewhere, so I thought, 'Where could we find a population that liked sales, wouldn't mind working hard hours, and would look at working at a supermarket as an upgrade to their expectations?'"
Using the insights gained from customer interviews, and pivoting to find an alternative group of potential candidates, Programa Valentina was able to recruit a group of young people from the streets into the program and successfully place them into steady jobs.
"We learned about all these kids that shine shoes on the streets. There were already a few programs that were helping kids get off the streets and into schools, and because of their life experiences, they had already acquired the skills we were looking for," Jessica explains.
Following this experience, Jessica realized the unique value proposition of her business: Programa Valentina could identify a talent problem and look to the market to provide a solution.
It became increasingly apparent that Programa Valentina was in a position to level the playing field. By encouraging a more inclusive environment, the program could attract a diverse group of applicants and inspire companies to think outside the box in resolving their hiring needs.
"If we can educate companies on different ways to look for talent and skills, we can help create alternatives for people who have fallen through the cracks of the workforce development system," she adds.
AN IMPACTFUL BUSINESS MODEL
By incorporating the three levels (household, organizational, and ecosystem) into your impact measurement process, you can build impact into your business model — allowing for positive shifts, adaptability, and continuous change. This helps your business be productive and impactful.
"[With this approach] your business model never remains static, and there's often a lockstep — when a product or service is inherently impactful, you start to produce more, and then ideally your impact grows too," says Julia.
This process is not always as clean as it sounds. But impact can really begin to matter when you put intentionality and strategy behind the data you collect.
What we're trying to demonstrate is that there's a sense of measuring as a 'tick the box exercise,' meaning 'I'm going to measure to report out.' And then there's measurement to really understand how you can move the dial, how you can change behavior, how you can use it as valuable information.
Carlyle Singer
President at Acumen